You are here
Advocate, commuters' complaints put spotlight on attitude of taxi drivers
By Laila Azzeh - Oct 05,2015 - Last updated at Oct 05,2015
Some taxi drivers are accused of bad behaviour, activists say, while a unionist say these are an insignificant minority (Photo by Osama Aqarbeh)
AMMAN – Commuting by taxi is not always a pleasant experience for many Amman residents due to "bad attitude of some drivers", according to a consumer advocate, who was challenged by the syndicate representing cabbies.
Several commuters and head of the consumer protection committee (CPC) at the Professional Associations Complex on Sunday charged that several taxi drivers have off-putting attitudes such as breaching meter regulations, rejecting customers based on destination and smoking during the trip.
CPC head Bassim Kiswani told The Jordan Times that some taxi drivers "violate public morals either in the way they dress or the type of phone conversations they engage in while driving".
"We hear many complaints from people on the very shameless acts of some taxi drivers," Kiswani said, describing their behaviour as "thuggery".
The head of the advocacy group said some cabbies speed, do not abide by the set fares, refrain from turning on the meters and smoke cigarettes without even asking for the passengers' permission.
"Some also pull over outside hotels, seeking higher rates from guests, while others negotiate for extra money to agree to go to certain areas," said Kiswani, who urged the Interior Ministry and the Public Security Department to "deal with violators with an iron fist".
"We do not have decent public transportation in Jordan and taxis are considered the only option for a large number of citizens and guests," he said.
The concerns of Kiswani were echoed by Iman Odeh, an employee at a private company in Amman, who said she began to dislike going to work as she has to take a cab to and from her house on a daily basis.
"It is very rare to find a taxi driver who abides by regulations. Some text while driving and others drive very fast," she told The Jordan Times.
Faten Alabbasi had the same sentiments, accusing cabbies of being selective in picking up passengers, particularly in the summer.
During the hot season, taxi drivers reject passengers because they do not like to go to certain destinations, said the 28-year-old employee.
"In any profession you can find good and bad employees. And there are good and bad taxi drivers," said Firas Khadra, who urged authorities to enforce more control on the sector as there is a large number women using this type of transportation on a regular basis.
Unionist rejects claims
Ahmad Abu Haidar, president of the Transport Services and Taxi Owners Union refuted accusations related to practices of drivers, saying such claims harm the reputation of the Kingdom.
"Such behaviour is practised by thugs and not by cabdrivers who have to go through a rigorous process before joining the profession," he said in comment on Kiswani's remarks.
He added that drivers should be above 22 years of age and should also obtain public transport licences and certificates of good conduct.
"We cannot deny that a few drivers have some distasteful practices, but they make up no more than 2 per cent," said Abu Haidar, who noted that there are around 17,000 taxis in Jordan and 3,000 (fixed-route) service cabs.
He said that taxi drivers in Jordan "are known for their honesty and decency".
"Listen to local radio stations every morning and you will hear tens of calls from drivers who report on belongings of passengers being left in their cars, such as mobile phones, jewellery and money," he said.
Officials from the public security and central traffic departments could not be reached despite several attempts to contact them to comment on the issue.
Related Articles
Jan 05,2017
AMMAN — Cabs, service taxies and public buses began to charge new fares from Thursday, despite their "dissatisfaction" with the new tariffs.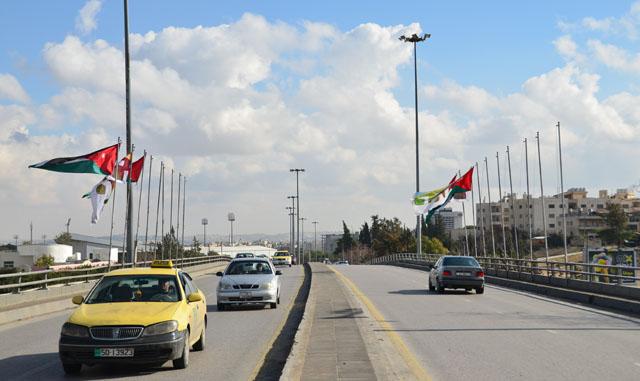 Apr 16,2015
A traffic ticket related to public transport drivers' apparel sparked debate among passengers and sector representatives on Thursday. 
Jan 17,2016
AMMAN — Around 4,000 private cars are ferrying passengers for a fee in the capital, the president of the Transport Services and Taxi Owners
Newsletter
Get top stories and blog posts emailed to you each day.