You are here
Abu Ghaush family ecstatic over Ahmad's Olympic gold medal
By Muath Freij - Aug 20,2016 - Last updated at Aug 20,2016
Alexey Denisenko of Russia (left) and Ahmad Abu Ghaush of Jordan compete in the men's taekwondo -68kg final at the 2016 Summer Olympics in Rio de Janeiro, Brazil, on Thursday (AP photo)
AMMAN — Farida Abdul Majeed, the mother of gold medal winner Ahmad Abu Ghaush, watched a taekwondo game for the first time in her life on Friday morning.
Abdul Majeed said she usually does not watch games where her children Ahmad and Mohammad are playing because she does not want to see them being hit or hurt.
"They say that I am a tough person, but when it comes to my beloved children I cannot take it," she told The Jordan Times over the phone on Saturday.
However, she had to make an exception on Friday after her friends and family members convinced her to watch the most important game in her son Ahmad's taekwondo career.
"I agreed under one condition: that I sit in a corner far from the screen, reading Koranand praying for him. But to be honest, when the match started, I could not resist and watched it until the end, and you have no idea how happy I was," she recalled.
At dawn Amman time, Ahmad won gold in the taekwondo -68kg event, the first Olympic medal for Jordan.
He beat Russia's Alexey Denisenko 10-6 in the Rio Olympics.
The 20-year-old student, the youngest competitor in the division, had qualified to the final late Thursday after beating Spain's 2012 London gold medallist Joel Gonzalez 12-7.
Abdul Majeed was not surprised.
"I was confident of my son's abilities. He used to tell me 'Mother, look at this guy, he is a world champion', and I used to calm him down saying 'God is the greatest of all and he will guide you to be the winner'," she added.
Omran Abu Ghaush, Ahmad's father, said his son is dedicated to the game and to his training.
"He could not have made it this far without the support of the Royal family and his trainer," he told The Jordan Times.
Omran was concerned about any injury his son might suffer, but Ahmad did not let his family down and he dominated the game.
Abdul Majeed said her son dreamed that the whole world would listen to the Jordanian national anthem in Rio.
"I told him that God will help you raise the Jordanian flag," she added.
His brother Mohammad, who used to be a taekwondo player but retired because of injuries, said Ahmad is a source of pride.
"I called him, thanking him because he made me so proud and happy," he added.
Mohammad said the celebrations in his neighbourhood in Amman's Nasser area after his brother made history was like "a huge wedding".
"My friends and friends' wives changed their Facebook profile pictures into the photo of Ahmad. Service car drivers started playing national songs and they asked me for photos of Ahmad so that they put them in their vehicles. The whole neighbourhood is over the moon," he added.
Mohammad watched the final match with his friends and family members at the gym where Ahmad used to train.
Abdul Majeed said Ahmad's dream is to continue his studies and become a famous taekwondo player, while Mohammad said his brother is aiming for gold in the coming Olympics.
"I am sure that this achievement will inspire other young people to follow in his footsteps and take up taekwondo," he added.
Related Articles
Aug 20,2016
AMMAN — Jordanians took to social media over the weekend to express their pride in Ahmad Abu Ghaush, who won gold in the taekwondo -68kg eve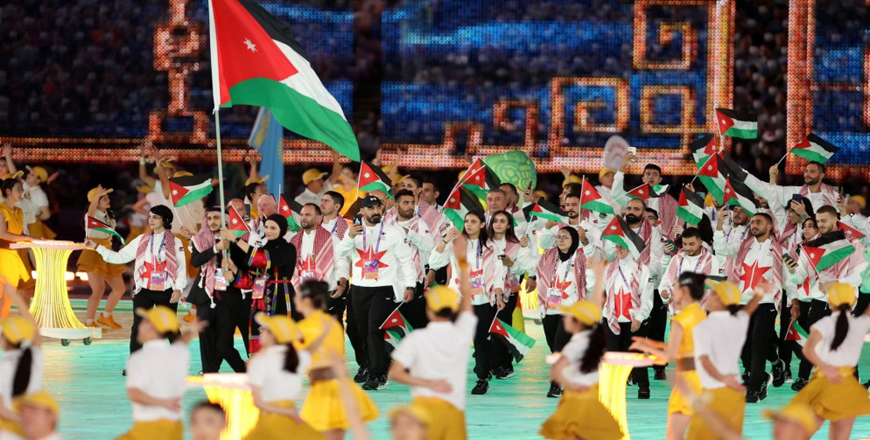 Sep 23,2023
AMMAN — Jordan joins 12,000 athletes from 45 countries at the 19th Asian Games which opened in Hangzhou, China, on Saturday and runs until O
Apr 18,2016
AMMAN — Taekwondo star Ahmad Abu Ghaush has secured his qualification to this summer's Olympic Games to become the second Jordanian guarante