You are here
Absence of just peace in Mideast origin of all regional woes — PM
By JT - Dec 04,2014 - Last updated at Dec 04,2014
AMMAN — Prime Minister Abdullah Ensour said that the absence of a just solution to the Palestinian issue is the root cause of all regional problems.
The premier made the remarks as he met on Thursday with Spanish Minister of Defence Pedro Morenes and an accompanying delegation.
The premier, who is also the defence minister, noted that the sense of injustice and unfairness has led to frustration and contributed to the rise of extremism.
The two sides discussed bilateral relations and ways to enhance joint cooperation in the fields of training and expertise exchange.
Ensour praised the "historic" relations with Spain, and expressed Jordan's keenness to further enhance them in all fields whether on the bilateral level or through the EU.
On the Mideast conflict, Ensour stressed the international community's duty to pressure Israel to implement international legitimacy resolutions that will lead to the establishment of an independent Palestinian state with East Jerusalem as its capital.
He also briefed the visiting delegation on the repercussions of the Syrian crisis on Jordan by hosting more than 1.4 million Syrian refugees, in addition to the Palestinian refugees, and the pressure they place on the educational, health and water sectors in the Kingdom, especially since Jordan is the world's second water-poorest country.
For his part, Morenes commended the key role the Kingdom is playing in the region under the leadership of His Majesty King Abdullah, noting that Jordan has maintained its security and stability despite the challenges facing the region.
He expressed his appreciation of Jordan for hosting Syrian refugees and undertaking the burdens of such a humanitarian task, and also stressed Spain's willingness to support Jordan to ease these burdens.
Minister of State for Media Affairs and Communications and acting Foreign Minister Mohammad Momani also attended the meeting.
Also on Thursday, Chairman of the Joint Chiefs-of-Staff Gen. Mashal Al Zaben met with Morenes and the delegation, and discussed cooperation and coordination between the armies of the two countries.
Spanish Ambassador to Jordan Santiago Cabanas Ansorena attended the meeting.
Related Articles
Dec 10,2014
The government on Wednesday condemned the "murder" of Palestinian Minister Ziad Abu Ein, who was killed after being beaten by Israeli forces during a protest march in Ramallah's Turmus Ayya village in the West Bank.
Sep 18,2014
Prime Minister Abdullah Ensour on Thursday discussed with China's special envoy on Middle East affairs Gong Xiaosheng bilateral relations and the latest regional developments.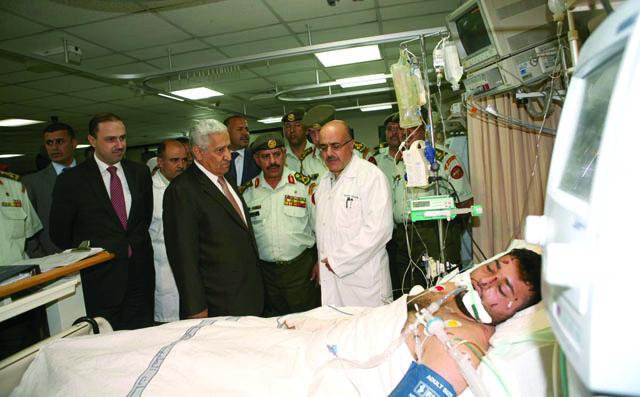 Jul 16,2014
Prime Minister Abdullah Ensour on Wednesday visited injured Palestinians receiving treatment at the army-run King Hussein Medical Centre (KHMC) for wounds sustained during the ongoing Israeli attack on Gaza.
Newsletter
Get top stories and blog posts emailed to you each day.