You are here
Abdul Hameed Shoman Foundation honours Arab researchers
By Hind Joucka - Nov 12,2015 - Last updated at Nov 12,2015
Prime Minister Abdullah Ensour with winners of the Abdul Hameed Shoman Foundation's Arab Researchers Awards during a ceremony in Amman on Tuesday (Photo courtesy of AHSF)
AMMAN — Research contributions from 15 Arab scientists were recognised at the Abdul Hameed Shoman Foundation (AHSF)'s Arab Researchers Awards ceremony for 2014 this week.
The 15 winners, from Egypt, Jordan, Lebanon, Oman, Palestine and Saudi Arabia, received awards from a jury chaired by Wajih Owais, head of the award's scientific committee.
The ceremony, attended by Prime Minister Abdullah Ensour, included delegates from scientific research institutions in the Arab world, diplomatic missions in Jordan, and representatives from the private and public sectors.
Valentina Qussisiya, chief executive of the AHSF, stressed the need for concerted efforts from public and private sector organisations to guide and invest in scientific research.
"Nations that possess knowledge can control their own destiny. We need to expand research and innovation within educational, academic and research institutions in order to create a revival in our society," she said at the ceremony.
A total of 146 candidates from universities and scientific institutions submitted their research for the awards, which were launched by the AHSF in 1982.
This year, two contributions won awards in the medicine and Health sciences category: "Genetic diseases and their impact on society", by Sherif Al Khamisi from Egypt, and "Nutrition and Health", shared by Saudi Arabia's Nasser Al Daghri and Lebanon's Lara Nasreddin.
Nasreddin, the only woman among the winners, said her presence there testified to the foundation's and the Arab world's support for women's involvement in science.
"Women have entered all areas of studies in the Arab region, be it natural sciences, medicine, engineering or technology. A recent study has shown that the number of women studying these subjects in the Arab region is higher than in developed countries," she noted at the ceremony.
"It's really not easy for a woman to balance all her responsibilities at home with her responsibilities in the workplace; she is already at a disadvantage having to tackle both of these duties. I hope that the culture will change and that it will allow us women to be more involved in scientific research," Nasreddin added in an interview with The Jordan Times.
In the category of engineering sciences, the awards went to Sherif Sedky of Egypt for his work on intelligent systems and Majed Al Aqeel of Saudi Arabia for his basic sciences research on technology and bioinformatics.
Mutaz Al Debei of Jordan and Sari Hanafi of Palestine shared the arts, humanities, social science and public administration award, while Fathi Hmeideh of Jordan and Saeed Al Thufri of Oman received the award for child development.
The award for agriculture sciences was presented to Mohammad Shatnawi and Ayed Al Abdallat of Jordan and Mutaz Ahmad of Egypt.
Lastly, Najeh Abdel Mutaleb and Abdul Nabi Qabeel from Egypt and Tareq Hussein from Jordan received the applied sciences award.
Related Articles
Nov 07,2016
AMMAN — Sixteen Arab researchers in different fields of science were recognised by the Abdul Hameed Shoman Foundation's (AHSF) 2015 Arab Res
Oct 22,2014
The winners of the 32nd Abdul Hameed Shoman Award for Arab Researchers in 2013 were honoured on Tuesday.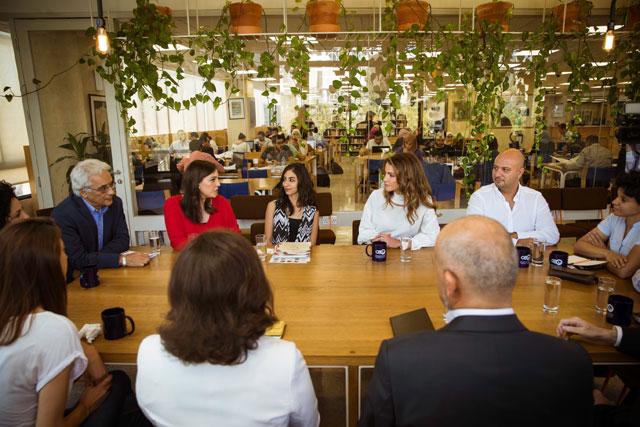 Oct 04,2017
AMMAN — Her Majesty Queen Rania on Tuesday visited the Abdul Hameed Shoman Foundation (AHSF), where she was introduced to the foundation's v
Newsletter
Get top stories and blog posts emailed to you each day.