You are here
9,277 Syrian refugees left Jordan in 2022, says UNHCR
By Rana Tayseer - Jan 29,2023 - Last updated at Jan 29,2023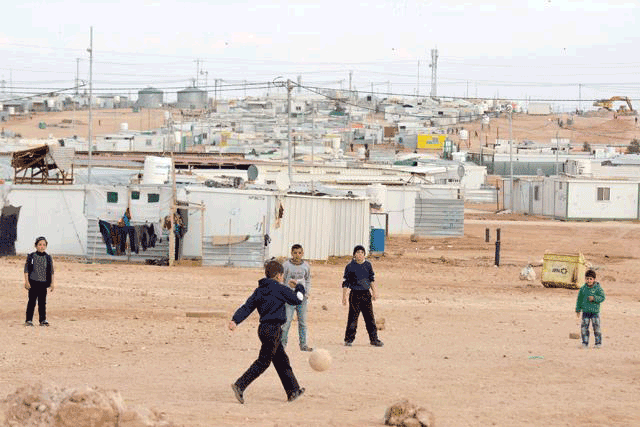 Children are seen playing at Zaatari Syrian refugee camp in Mafraq Governorate, some 80 kilometres northeast of Amman, in this photo dated January 28, 2018 (JT file photo)
AMMAN — The number of Syrian refugees who left Jordan in 2022 — those who either returned to Syria or resettled in a third country — reached 9,277, according to recent figures from the United Nations High Commissioner for Refugees (UNHCR).
A total of 4,013 refugees returned to Syria from Jordan and 5,264 refugees resettled in a third country, Al Mamlaka TV reported, citing a UNHCR report.
According to UNHCR, a total of 50,966 Syrian refugees returned to Syria in 2022 from various countries, including Jordan.
A total of 22,526 Syrian refugees left their host countries for third countries under resettlement programmes in 2022 — 1,813 from Egypt, 7,490 from Lebanon, 5,264 from Jordan, 7,158 from Turkey and 801 from Iraq, the agency reported.
Canada, the US, Germany, France, Sweden, Norway and the Netherlands received the largest number of resettlements, according to UNHCR.
Syrian refugees in Jordan largely say that they prefer to remain in the Kingdom.
Umm Tariq, a Syrian refugee who lives in Jordan with her son, said that she prefers living in Jordan as "life here is much better than Syria, and also it's cheaper".
"We lost our house during the war in Syria. We don't have anything there, and we can't find jobs there. Also, Syria is very expensive, so it's very hard to live there. And my son has not been approved to return," she told The Jordan Times.
"At least here, we are secure and have the support of many international organisations. The future is unclear whether we can return to Syria," she added.
Mohammad Darawi, a Syrian refugee who lives with his family in Marka, told The Jordan Times that he is not considering going back to Syria for now.
"I work in construction here and I am able to pay the rent and provide for my kids. It is difficult to find a job in Syria now, so I don't think I will return for now. I am stable here," he added.
Related Articles
Feb 20,2019
AMMAN — The Spanish embassy in Amman on Wednesday announced the start of procedures to resettle 662 Syrian refugees residing in the Kingdom.
Jan 02,2022
AMMAN — In 2021, approximately 5,800 refugees returned from Jordan to Syria, which took place on a voluntary basis, independent of UNHCR, ac
Mar 29,2016
GENEVA — The United Nations said on Tuesday it aimed to resettle more than 450,000 Syrian refugees, about one-tenth of those now in neighbou