You are here
52 students graduate from Ruwwad community service programme
By Hind Joucka - Nov 29,2015 - Last updated at Nov 30,2015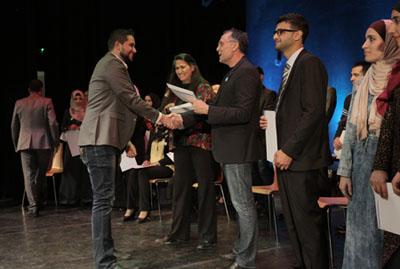 New university graduates are honoured upon their completion of the Ruwwad Al Tanmeya scholarship and volunteerism programme at a ceremony on Saturday (Photo courtesy of Ruwwad Al Tanmeya)
AMMAN — Fifty-two new university graduates were honoured on Saturday at a ceremony recognising their completion of Ruwwad Al Tanmeya's scholarship and volunteerism programme.
The event was the non-profit organisation's 10th annual celebration for students graduating from its community service project.
The graduates studied at local universities and colleges with the support of scholarships from the Mousab Khorma Youth Education and Empowerment Fund, while simultaneously devoting four hours a week to volunteer work to serve the community.
The students selected for the programme come from marginalised communities around Jordan such as Jabal Al Natheef, Al Beida and Tafileh, according to organisers.
"For us this is not a graduation celebration per se; it is a celebration of thousands of hours of community service and volunteerism that the youth have engaged in," said Samar Dudin, regional director and head of programmes at Ruwwad.
"We wanted to highlight the journey of empowerment. This is not a regular journey — these young people access cultural nourishment and business skills development, as well as the experience of being part of the community service programme," she added.
According to Dudin, the activities involved in these programmes focus on skill building and preparing young people to enter the job market.
"Our programmes are foundations on which we build these youths' characters. We focus on listening and on time discipline, as well as involvement in debates and open cooperative discussion. That becomes the culture of the work through which we engage," she told The Jordan Times.
Hazem Zughayer, one of this year's graduates, said his journey with Ruwwad is not over after five years of volunteering with the organisation.
"The programme helped me gain more confidence, especially when speaking in public and when expressing my opinions. It shapes your personality and makes you grow socially and intellectually in ways that university doesn't provide," Zughayer told The Jordan Times.
"I graduated with a bachelor's degree in information technology, and I want to give courses on this subject at Ruwwad for free. Before, we were volunteering in return for the scholarship. Now, I want to really volunteer my time and efforts — for nothing in return," he added.
Ruwwad Al Tanmeya, a nonprofit organisation founded in 2005 by Aramex founder and vice chairman Fadi Ghandour and a group of Jordanian entrepreneurs, works in the areas of child development, youth organising and community support, according to its website.
Since 2005, 955 people have benefited from educational scholarships offered through Ruwwad.
Ruwwad supports 450 young people in Jordan, Lebanon, Egypt and Palestine each year, who in turn contribute 84,600 community service hours in their neighbourhoods, schools and Ruwwad community centres, the NGO said in a statement.
The organisation is currently supported by Aramex and Cairo Amman Bank.
Related Articles
Jun 18,2015
AMMAN — Ruwwad Al Tanmeya celebrated its 10th anniversary this week under the slogan "Build It Up."The nonprofit community development organ
Dec 04,2016
AMMAN — Ruwwad Al Tanmeya community empowerment organisation has recently celebrated 45 Jordanian graduates who completed their higher educa
Sep 05,2016
AMMAN — The Ruwwad Al Tanmeya organisation on Sunday celebrated the conclusion of a campaign that brought 54 mothers together to tackle viol
Newsletter
Get top stories and blog posts emailed to you each day.