You are here
'29 suspected cases of human trafficking referred to court this year'
Activist urges more efforts to protect domestic helpers
By Laila Azzeh - Dec 19,2016 - Last updated at Dec 19,2016
AMMAN — Twenty-nine suspected cases of human trafficking were referred to court this year, with the suspected crimes ranging from sexual exploitation to forced labour, according to an informed source.
The cases, referred by the Public Security Department's Anti-Human Trafficking Unit, are yet to be ruled by court to involve human trafficking practices, said department director, Lt. Col. Haydar Shboul.
Addressing a workshop held by the Tamkeen Fields of Aid on the national framework of anti-human trafficking on Monday, Shboul added that the department referred 28 suspected human trafficking cases to court last year and 58 in 2014.
"We are working to have a liaison officer at the Justice Ministry to follow up on the court rulings," he said, noting that the department dealt with 313 labour cases that included various violations, but did not amount to human trafficking.
The Kingdom has ratified several international agreements related to human trafficking, such as the Protocol to Prevent, Suppress and Punish Trafficking in Persons, Especially in Women and Children, which is part of the United Nations Convention Against Transnational Organised Crime.
In addition, Jordan has adopted a national strategy to combat human trafficking, which focuses on prevention, protection, law enforcement and international cooperation to eradicate the phenomenon.
Tamkeen Director Linda Kalash commended the "substantial" progress achieved in the field of combating human trafficking in Jordan, but called for more efforts to protect migrant workers, who are the majority of human trafficking victims.
Praising the role the anti-trafficking unit is playing in protecting the victims, she cited the need for more qualified female police officers to deal with human trafficking cases, especially those involving domestic workers.
"I know it is hard to inspect the situation of domestic helpers at homes. We call for finding a mechanism that ensures they work under good conditions, such as interviewing them when renewing their contracts," Kalash said.
In the presence of representatives of several embassies of countries that have guest workers in Jordan, Kalash highlighted that finding "competent and honest translators is one of the challenges facing the anti-trafficking department and civil societies working with foreign labourers".
Basel Tarawneh, the government's human rights coordinator, highlighted the government's efforts to combat human trafficking, especially in amending legislation and revisiting laws related to domestic helpers.
Jordan reported 16 cases of human trafficking this year, according to Tarawneh, who added that 85 victims were sheltered, 58 went back home voluntarily and 25 were reintegrated into the workplace.
Legal experts, human right activists and government officials also discussed the role of the Labour Ministry in protecting workers from human trafficking and the efforts of the government-run Karameh shelter, established to house human trafficking victims in Jordan.
Participants also looked into ways to prevent human trafficking within refugee communities and the role of the media in this regard.
Related Articles
Jan 06,2016
AMMAN — The Public Security Department (PSD) on Wednesday signed a memorandum of understanding with Tamkeen Fields for Aid for support in sa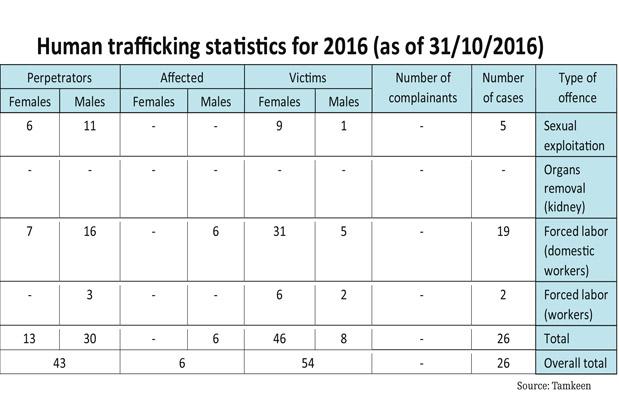 Jun 18,2017
AMMAN — Fadwa (not her real name) was shopping at a mall in Amman four years ago, when she felt tired and sat on the sidewalk opposite the m
Jun 18,2017
AMMAN — Fadwa (not her real name) was shopping at a mall in Amman four years ago, when she felt tired and sat on the sidewalk opposite