You are here
'2016 was marked by rise in student activism'
By Suzanna Goussous - Dec 29,2016 - Last updated at Dec 29,2016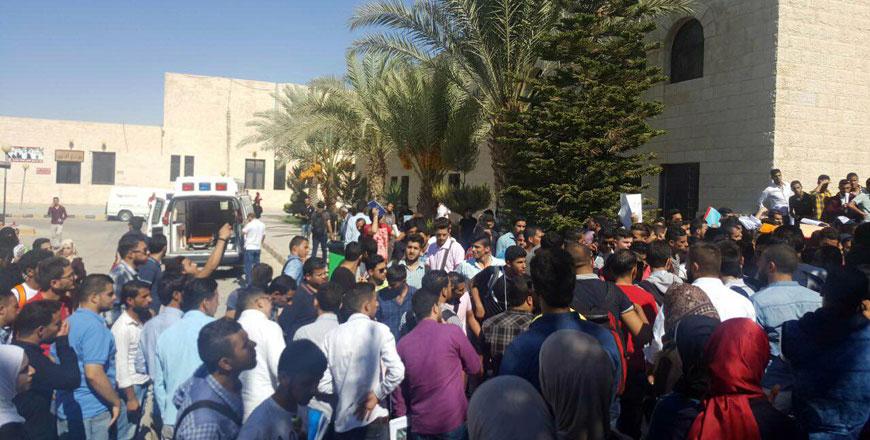 Hashemite University students protest on campus earlier this year (File photo)
AMMAN — Student activism "witnessed an improvement" in 2016, with many demonstrations taking place on campuses, but politicians and activists questioned the "obvious gap" between student activism and political life after university.
According to a study issued by the University of Jordan's (UJ) Centre of Strategic Studies earlier this year, only around 50 per cent of students are interested in politics and 66 per cent are not affiliated with any political party.
Starting with the "open-ended protest" at UJ in February organised to demand the full reversal of a decision to raise tuition fees by 100 per cent, protesters stayed on campus for about three weeks despite a ban issued by the president preventing the protesters from staying overnight.
Students defied the ban, and on their 18th day of the protest, the university's administration decided to reduce the raise by 50 per cent this year and 50 per cent over the next two years, with the decision being reversed completely by 2018.
In April, Mafraq's Al al-Bayt University students demonstrated over the transport services provided around campus that also serve the public in the northeastern governorate.
After several protests, an initial deal was reached with the university administration to resolve transport issues.
The administration and students reached an agreement in September with the Land Transport Regulatory Commission, by adding more buses around the university's main gates and organising their schedules.
In July, the Hashemite University decided to raise tuition fees to "reduce student intake".
The move led to protests in the Zarqa-based university, which led the administration to reverse the decision in September.
After the state-owned National Electric Power Company (NEPCO) signed a deal to import gas from Israel, many protests erupted across the Kingdom's universities in late September, leading students to launch the "Student Coalition for the Cancellation of the Gas Deal".
In late October, Hashemite University student and activist Ibrahim Obeidat was suspended for four academic semesters over his "activities on campus" and "insults on social media". The incident generated more protests inside the university demanding "freedom of expression".
In December, Zarqa Private University suspended a student for wearing a shirt with the "Enemy's Gas is Occupation" slogan — a slogan used to protest the gas deal with Israel.
However, after protests demanding the cancellation of the decision, the university reversed it.
Limitations
Murad Adaileh, spokesperson of the Islamic Action Front, said the issues that limit student activism are "due to the overall system in universities".
He said not giving enough attention to student unions is among the main problems holding back political development in the country.
"Postponing the elections at a university for two rounds increases the pressure and adds more limitations," Adaileh told The Jordan Times recently.
Unemployment and lack of job opportunities, he explained, are among other reasons behind the reluctance of youths to enter political life after university.
Adaileh said the solution to the gap between activism among students and activism in the public sphere would be to encourage political awareness on campuses.
Omar Awwad, from the Jordanian Communist Party, said 2016 was an indicator of "higher awareness levels" among university students, as they have protested the raise of tuition fees, political causes such as signing a 15-year gas deal with Israel, and administrative decisions at universities.
"University administrations announced many decisions that limit students' freedoms. It is as if they do not want them to be active politically or socially," Awwad charged.
He added that some decisions by universities were "too strict", which limits student activities on and off campus.
"It is a shame to be talking about suspending a student because of his behaviour or because he wore a shirt with a political slogan on it," Awwad added.
"It's about time we gave students their freedom… and reduced the restrictions to reform the educational system as a whole."
Fakher Daas, from the Jordanian Democratic Popular Unity party, said the demonstrations held in 2016 were "part of a series of events to reform the social, economic, and political situation in Jordan".
Some university administrations responded by "oppressive measures", Daas said.
The gap between parties and student activism is caused by "the absence of awareness among students" and "dividing activists into groups" instead of being loyal to one entity, he argued.
"University life cannot be separated from political life. If political awareness is not present on campus, racism and discrimination will be rampant among the student body. The student union prepares students for political parties outside university," Daas said.
For his part, Mustafa Khawaldeh, Hashemite University dean of student affairs, argued that the lack of political awareness among students causes more conflicts on campuses.
Tribal backgrounds were prominent in demonstrations, he argued, with "little to no knowledge in politics", adding that the decision to suspend Obeidat for four academic semesters was an example of "applying the law on everyone equally", which should be enforced in the upcoming year.
UJ Student Union member Sameer Mashhour said the movements organised by students this year were mainly to demand "basic rights", with only a few tackling the gas deal with Israel.
Mashhour added that there were more restrictions on student activities on campuses; however, students "went against" the restrictions and organised movements.
He said the reluctance to join political parties after university is due to "lack of solutions offered by parties" and "setting more restrictions on the activities of parties".
Mashhour added that the lack of discussion panels and meetings on and off campuses also plays a role in the distance between student activists and political parties in the Kingdom.
He said student unions "do not have a major role in Jordan" since they are usually divided into members of different blocs, and their activities are "limited by the university administration".
"Postponing the elections in more than one university aims at weakening student activism," Mashhour charged.
"We need to re-establish a movement that serves all students and gives younger generations their rights," he added.
Related Articles
Mar 14,2016
AMMAN — Students from the University of Jordan (UJ) and other universities around the Kingdom were still protesting a UJ decision to raise t
Jul 21,2018
AMMAN — The University of Jordan's (UJ) decision to raise registration fees announced on Thursday sparked outrage among students, who called
Mar 11,2018
AMMAN — Suspensions and detentions of students who participate in activities to defend their rights or express their ideas has led to
Newsletter
Get top stories and blog posts emailed to you each day.