You are here
17 suspected terrorists to face trial for major terror plot
Arrests made in November for scheme to attack set of targets
By JT - Jan 08,2018 - Last updated at Jan 08,2018
AMMAN — The General Intelligence Department (GID) on Monday announced that it had foiled a terrorist plot that was planned in November by a "cell affiliated with Daesh" terror group.
The suspected cell members intended to carry out several terror operations simultaneously with the aim of destabilising national security and spreading chaos and fear among citizens, the Jordan News Agency, Petra, reported.
Acting on intelligence, GID agents arrested 17 suspects who are believed to be involved in the plot, and seized weapons and materials that were supposed to be used in the terror plot.
During interrogation, the cell members reportedly revealed that the group had prepared a comprehensive plan to carry out the assault after examining the targets and set a mechanism to carry out the plot.
Among the targets were security and military centres, malls, media outlets and moderate religious figures.
The cell members planned to secure financial support to carry out their plots through robbing banks in Ruseifa and Zarqa and stealing vehicles to sell. They also planned to manufacture explosives through using basic ingredients available in the market.
All the detained members were referred to the State Security Court's (SSC) prosecutor general, who started investigating and indicted the suspects with plotting to carry out terrorist acts, promoting the ideologies of a terror group and involvement in carrying out acts of terrorism.
They have also been indicted with selling weapons and ammunition, securing funds money and possessing weapons for purposes of carrying out terror acts.
All the detained members will be referred to the SSC once the prosecutor completes all the procedures, Petra said.
Related Articles
Jan 24,2018
AMMAN — Attorney General of the State Security Court (SSC) Hazem Majali has endorsed the indictment list of a suspected Daesh terrorist cell
Dec 29,2016
AMMAN — The State Security Court (SSC) on Wednesday sentenced five defendants in the "Irbid terror cell" case to death by hanging, the Jorda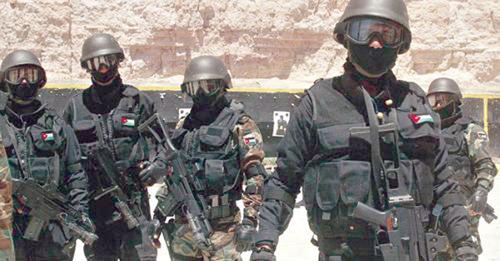 Sep 07,2021
AMMAN — The General Intelligence Department (GID) foiled a Daesh terrorist plot targeting the GID headquarters in Irbid in March of this yea