You are here
16 day-campaign against gender-based violence concludes
By Mays Ibrahim Mustafa - Dec 08,2022 - Last updated at Dec 08,2022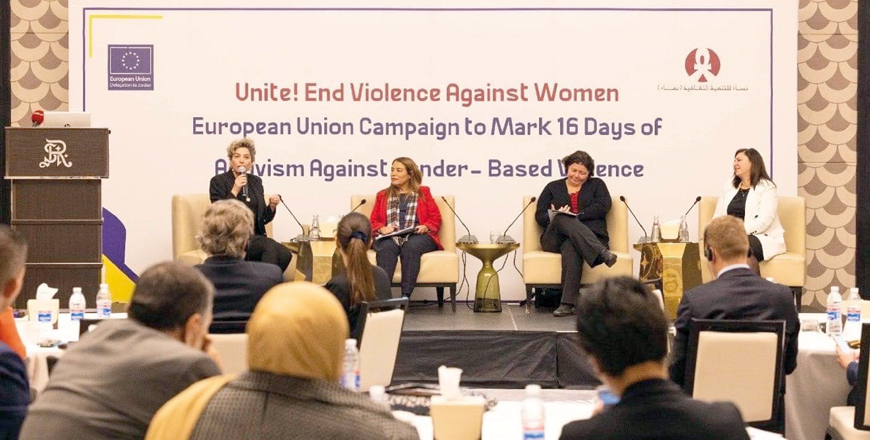 Speakers during the closing ceremony for the 2022 edition of the 16 Days of Activism Against Gender-Based Violence UN campaign in Amman on Thursday (Photo courtesy of European Union in Jordan Facebook page)
AMMAN — EU Ambassador to Jordan Maria Hadjitheodosiou stressed the EU's commitment to continue to support Jordan in "its efforts to empower women" in all life spheres and "put an end to any type of violence against them".
Her remarks were made on Thursday, during the closing ceremony for the 2022 edition of the 16 Days of Activism Against Gender-Based Violence UN campaign, which was marked under the theme "UNiTE! Activism to end violence against women and girls".
The 16 Days of Activism Against Gender-Based Violence is an annual international campaign that kicked off on November 25, the International Day for the Elimination of Violence against Women and concludes on December 10, which marks Human Rights Day.
The campaign, which is supported by UN agencies, Plan International and the European Regional Development and Protection Programme (RDPP), was launched in Jordan by the Jordanian National Commission for Women (JNCW) in coordination with National Team of Family Protection (NTFP) and the JNCW Network Against Violence Against "Shama'a".
"The European Union and its member States stand firm against any form of violence against women and girls," Hadjitheodosiou said, noting that gender-based violence (GBV) represents the most common violation of human rights globally, according to the United Nations.
The ambassador noted that through its partnerships, the EU made sure that this year's campaign reached people in various governorates across Jordan, especially students in schools and universities, as "no positive change will happen without the involvement of young people, both men and women".
The campaign also involved supporting the efforts of law enforcement institutions as well as civil society organisations and "different initiatives that aim to prevent and respond to violence against women and girls, and provide the needed services to victims and survivors," she added.
Moreover, Hadjitheodosiou underlined the importance of uniting efforts in the fight against GBV, noting that the repercussions of the COVID-19 pandemic have "further exacerbated gender inequality, leaving women and girls more vulnerable to all forms of violence".
"GBV is a global pandemic that far too often prevents women and girls from living their lives freely and to their full potential. It also prevents their participation in public and political life, with negative consequences on the social and economic progress of their countries," she said.
Estimates published by the World Health Organisation (WHO) show that one in three women around the world have been subjected to either physical or sexual violence in their lifetime, one in five women have been sexually abused as children and one in two young women have experienced gender-based cyber violence, Hadjitheodosiou added.
She concluded her speech by noting that the work to end GBV doesn't stop with the end of this campaign. Moreover, she expressed hope that future campaigns will include "more positive accounts of women and girls who received the needed support and who felt empowered at home, at school and at work".
The ceremony also involved the screening of the short film "Abia" on domestic abuse, produced by Generation For Peace (GFP) and Cinemagic with the support of the Embassy of Ireland.
Irish Ambassador in Amman Marianne Bolger said that this film is a reminder that "we need to keep on telling [these stories] so that the voices of women are heard and these issues are addressed".
She also pointed out the importance of using art as a vehicle in addressing gender-based violence and delivering powerful messages.
The screening of "Abia" was followed by a short video, featuring the various activities carried out across the Kingdom during the campaign.
Young and established Jordanian human rights activists as well as public and media figures, also took part in panel discussions focused on human rights, gender-based violence, economic violence against women and femicide.
Newsletter
Get top stories and blog posts emailed to you each day.