You are here
'Thousands' of finds discovered at Iron Age temple in Madaba, says Canadian archaeologist
By Saeb Rawashdeh - Apr 16,2023 - Last updated at Apr 16,2023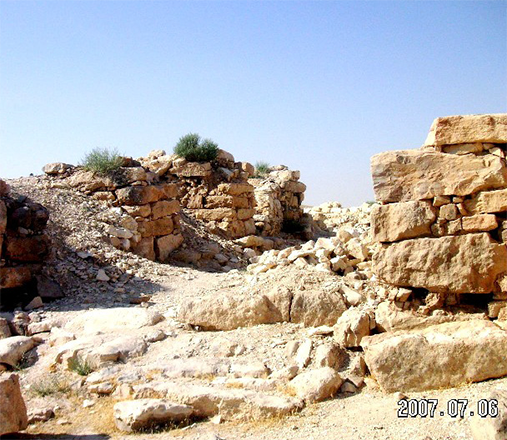 In this undated photo, remains of the Iron Age site of Khirbet Al Mudayna are seen (Photo courtesy of The Mobile Megalithic Portal)
AMMAN — Thousands of animal bones, ceramic animal figurines, wall stones and limestone altars have been found at an Iron Age temple in Khirbet Al Mudayna, an archaeological site southeast of Madaba, according to a Canadian archaeologist.
Khirbet Al Mudayna is part of Wadi ath-Thamad Project and the excavation began in 1996.
"The ceramic finds indicate that all the major buildings at the site were destroyed in the same destruction event sometime during the late 7th-early 6th century BC," noted Professor Emerita from Wilfrid Laurier University Michele Daviau.
She added that the temple is divided into a main room and an annex both lined with benches along the walls.
Two large pillars are connected with a bench which indicated that the temple was roofed, Daviau continued, noting that in the main room a floor was a hard-packed beaten earth surface with a huge limestone slab in the southeast corner.
"This stone probably served as a support or low podium for three limestone altars which had fallen over and lay broken in pieces around it. Two of the altars can be described as shaft altars, while the third has a conical base and faceted cylindrical stem," Daviau said, noting that the second shaft altar, broken in pieces, lay just to the west with its upper surface facing east.
According to researchers, each altar had a specific purpose; the larger of the two shaft altars had a depression on the top with three distinct areas; one area was pitted, evidence that a liquid was repeatedly poured on the altar and flowed through a small hole to drain into a sump.
"These features make it easy to identify this altar as a libation altar. The smaller shaft altar has a square depression that was severely burnt on its upper surface and shattered due to repeated heating. The candelabrum altar had a small, bowl-like depression that was also soot stained. This altar is identified by an inscribed label as an incense altar," Daviau said.
Two figurine heads were found in the debris, a female figurine torso, a ceramic libation vessel, two murex shells, a faience bead, a Wadjet eye amulet, two large pegs and five lamps. A small stone basin and a gaming board were also discovered, she said.
The gaming board was not an unusual object at the temple, Daviau continued, "this particular gaming board may have been in secondary use."
"The temple was definitely a building set aside for religious rituals; it contained features and artefacts with exclusively religious function even though the total number of finds is few," Daviau highlighted.
Jewellery was found and it might be associated with a cultic drama carried out by priests at the temple, although the evidence is scarce, the scholar concluded.
Newsletter
Get top stories and blog posts emailed to you each day.