You are here
Weighing costs
Mar 24,2014 - Last updated at Mar 24,2014
About seven years ago, I saw a small glass room filled with a cloud of smoke at the airport of an Arab Gulf country.
I thought even if I were a cigarette smoker, I would never expose myself or my clothes to such toxic smoke.
That was the first time I saw a smoking room at an airport. Now such rooms exist at almost every airport, including Queen Alia International Airport.
The purpose of these rooms is to allow smokers to practise their bad habit freely, without exposing others to any danger.
What surprises me is that our authorities are now concerned about the health of coffee shop nargileh smokers, among all others.
Shouldn't they be more concerned about the health of public sector employees, particularly the non-smokers, such as pregnant women?
Wouldn't it be better to enforce the law that was passed long ago in government buildings, the same way it is implemented in the offices of several private companies?
We have three children. I started smoking nargileh over 20 years ago. I never smoke it at home, but rather in coffee shops.
Even when we go as a family to a restaurant that offers hookah, I do not order it, so that I do not practise my bad habit in front of the children, although I do not deny smoking it.
Do officials think that people have the strong will to quit smoking the moment coffee shops are forbidden from offering hubble bubbles?
If nargilehs are forbidden in coffee shops (the smoking rooms), who guarantees that smokers will not start smoking in their houses, in front of their children?
Who says that forbidding hookahs in coffee shops will not result in smoking at home, thus endangering the health all of the entire family?
Nizar S. Sawalha,
Amman
Related Articles
May 18,2014
People may think hookah is a safe alternative to cigarettes, but a new study shows hookah users are still exposed to cancer-causing compounds.
Feb 18,2015
Jordanians spend over JD500 million in cash on tobacco every year, while the indirect costs are estimated at over JD2 billion, according to the Jordan National Anti-Smoking Society.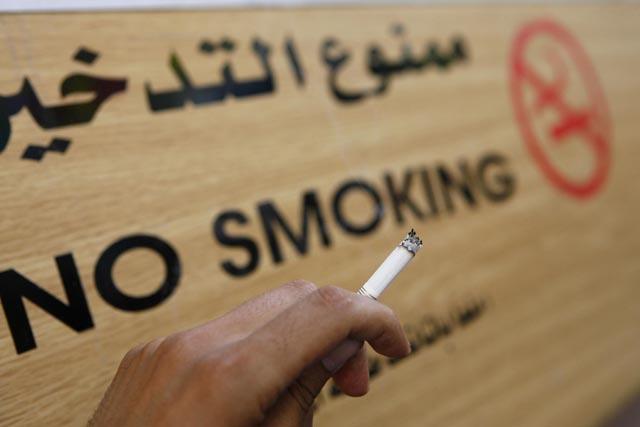 Jan 23,2014
The country's healthcare system faces the risk of collapsing unless more measures are adopted to curb smoking, a health expert said on Wednesday.
Newsletter
Get top stories and blog posts emailed to you each day.