You are here
Animal mistreatment in Petra
Jan 25,2018 - Last updated at Jan 25,2018
Regarding the article published in The Jordan Times titled "Animal welfare under scrutiny in Petra after reports of abuse" on January 18, it is not just about new stables, lighter carriages and animal-friendly harnesses. It's about overloading and overworking the 12 carriage horses in the Siq and the many donkeys which climb up the 900 steps to the Monastery.
When the carriages were first introduced, they were intended only for people who were unable to walk all the way to the Treasury, and only two people should ride with the driver at a steady trot. Instead, anybody including whole families rides in them and some unknowledgeable tourists encourage the drivers to whip the horses into a fast canter uphill on the way back. Then they turn them around after dropping the people off, and go straight back down with more tourists, without even a breather for the animals. If they take them to the clinic for a drink it wastes their time and loses a trip. The horses are exhausted by evening. Nobody monitors how many trips they do. Four noiseless golf carts were bought three years ago, but the men preferred their horses as they didn't have to waste time charging them up, earning less money. Golf carts do not do the damage that horses' iron-shod hooves do, nor do they emit fumes as other vehicles do.
On 30, 10, 2014 a "Care for Petra" campaign was launched after many meetings. It included the above, respecting the site, and child labour. Yet young boys are still in charge of many of the donkeys climbing the steep eroded steps up to the Monastery. The donkeys' hooves damage the steps. The boys do not care about very heavy people riding the donkeys, which should only carry up to 50 kg.
Laws mean nothing to the boys, and fines for cruelty are around five to 7JD.
No-one has ever been jailed for cruelty.
353 horses and 30 camels are licensed and each wears a number. Donkeys have no licences and no numbers. Cruelty harms Jordan's image. Mahatma Gandhi said: "A country is judged by the way it treats its animals".
Chris Larter.
Amman.
Related Articles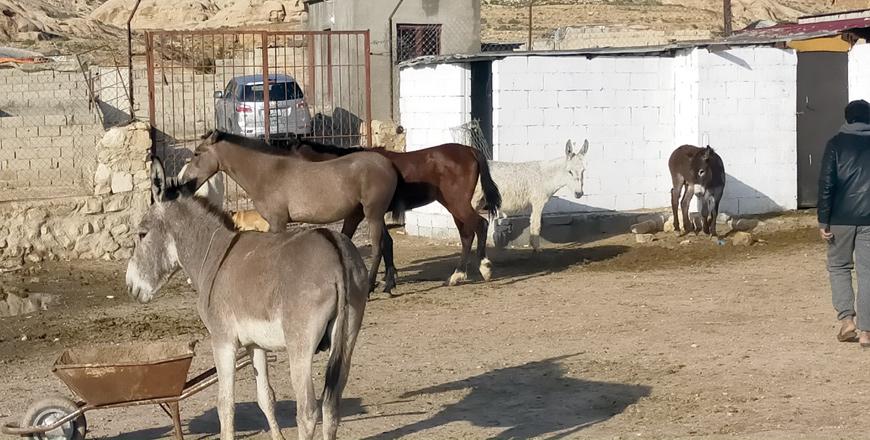 May 03,2021
AMMAN — PETA veterinary clinic in Petra is the only facility in the area, which provides free emergency medical care to hundreds of injured
Jan 18,2018
AMMAN — People of Petra are keen to cooperate with authorities and organisations to end mistreatment of animals, a local community represent
May 02,2021
By Miodrag SoviljAgence France-PresseLAPOVO, Serbia — Pasha was once a mighty stallion who starred in movies, modelled for magazines and won