You are here
Volkswagen ID.4 Crozz Pure+: By popular demand
By Ghaith Madadha - May 15,2023 - Last updated at May 15,2023
Photos courtesy of Volkswagen
An electric-powered compact crossover that has taken the Jordanian market by storm, the Volkswagen ID.4 was launched in 2020 at the vanguard of the German brand's drive towards electrification.
A global car sold in Europe, the US and China, but not officially offered in the Middle East, the ID.4's huge popularity in Jordan through independent grey market importers starkly highlights the chasm between Jordanian market needs and the GCC market, to which most global manufacturers' regional operations and products are geared towards.
The Chinese connection
Another case that underlines the shortcomings of lumping Jordan and other non-GCC nations with different economic and import duty regimes in a broad Middle East sales region, the popularity of Chinese-built ID.4 variants quite visibly and significantly outstrip those of its closest officially-imported Tiguan model in Jordan. Widely available in two guises, Chinese ID.4s are produced in collaboration with two different manufacturing partners, and include the featured ID.4 Crozz, built by FAW-Volkswagen and the ID.4 X, built by SAIC-Volkswagen, bearing a slightly longer and more jutting horizontally-oriented bumper design.
Engineered as a purpose-built EV, the ID.4 Crozz's design is sharp, sleek and flowingly curvy in its lines and extremities, but is nevertheless bulky with its high flanks necessitated by its big underbody battery pack. That said, the ID.4 use black lower cladding and massive alloy wheels starting from 19-inches and going up to 21-inches, to reduce its visual height and distance between wheel-arch apex to bonnet surface. Faux side intakes and slim squinting headlights meanwhile lend its fascia a more muscular appearance in the absence of a functional grille.
Classic configuration
Something of a cross between a modern Tiguan and Volkswagen's defining classic Beetle, the ID.4's body style and size may owe more to former, but its rear-motor layout harks back to the latter. Powered by an 84.8kWh battery pack, the more powerful higher spec Crozz Pure+ and Pro versions feature a compact electric motor producing 201BHP and 228lb/ft torque. Driving the rear wheels through a single-speed automatic gearbox, the ID.4 Crozz Pure+ is estimated to carry its hefty estimated 2.1-tonne mass through 0-100km/h in around 8.5-second and onto a 160km/h maximum.
More balance in output than most EVs, the ID.4's motor still delivers a near instant and muscular burst of torque from standstill, but this is not so much as to as easily overpower its driven rear wheels. The ID.4 instead delivers a similar level of power, which makes it drive with a more progressive and linear fashion. Responsive at low speed and versatile in accumulating speed when cruising, the ID.4's best work — like most single-speed EVs — is accomplished at moderate velocities, with its rate of acceleration dropping off somewhat past highway speeds.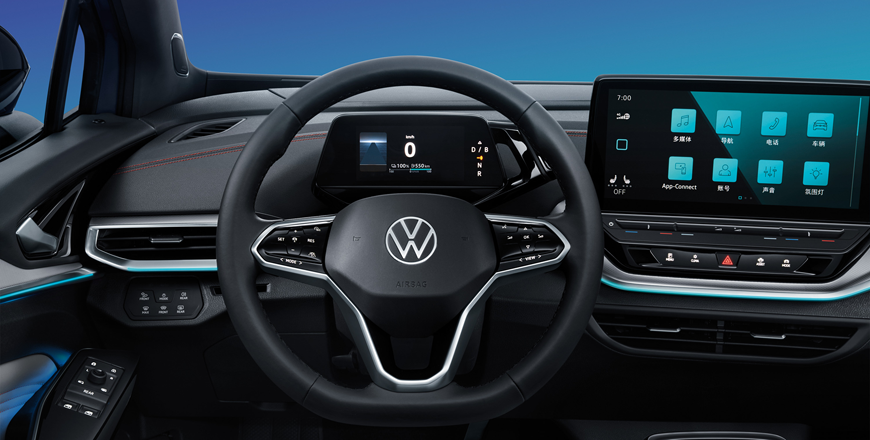 Comfortable commuter
With a claimed 550km single charge driving range, the ID.4 would be expected to deliver somewhat less range in rear world conditions, topography and driving style. Charging time using a fast non-domestic DC charger is as short as 30-minutes for a 30-80 per cent charge. Even if quick to charge using such a charger when available, the ID.4, or any EV, however, fail to provide the quick convenience of re-fuelling a combustion engine vehicle. Meanwhile, AC charging is estimated at between around 7 to 11 hours, depending on type of charger and electricity supply.
Quiet and smooth in operation, the ID.4 is a relaxed cruiser that is at its most efficient in a stop/start urban environment, where its generous torque comes in handy and doesn't require additional gears, while regenerative brakes can more often recoup energy. An accomplished commuter vehicle that can be recharged between long stop destinations, the ID.4 is a decidedly dedicated on-road vehicle, with no off-road pretensions owing to its low battery pack, two-wheel drive, lack of low-range gears, long low front bumper, and ground clearance only moderately better than a saloon car.
Subtly sporty
Easy to manoeuvre in town with its light electric-powered steering, reversing camera and parking sensors, the ID.4 Crozz' rear-motor, rear-drive configuration meanwhile develops plenty of traction when launching from standstill, in addition subtly sport dynamic characteristics, vaguely reminiscent of exotic rear engine sports cars. Tidy and comparatively eager on turn-in with its somewhat rear-biased weighting and low centre of gravity, the ID.4 feels grounded and well controls body lean, while its wide 255/50R19 rear tires dig in to tarmac as one comes back on the accelerator to power out by mid-corner.
Comfortable and well insulated when cruising and pleasantly refined, the ID.4 well absorbs most road imperfections, but can feel slightly firm over more jagged bumps and potholes. Uncluttered inside with its horizontally-oriented design, digital instrumentation and large tablet-style infotainment screen, it has fresh ambiance that is somewhat up-market, but not precious or overstated. Driving position is supportive, well adjustable and comfortable with good front views, while rear space is reasonably good. Well equipped with safety convenience, assistance and infotainment features including lane departure assistance, all but top spec Pro models but lack a rear armrest.
TECHNICAL SPECIFICATIONS
Engine: Rear-mounted permanent magnet synchronous electric motor
Battery: Lithium, 84.8kWh
Gearbox: 1-speed automatic, rear-wheel-drive
Power, BHP (PS) [kW]: 201 (204) [150]
Power-to-weight: 94.3BHP/tonne (estimate)
Torque, lb/ft (Nm): 228 (310)
Torque-to-weight: 145.5Nm/tonne (estimate)
0-100km/h: 8.5-seconds (estimate)
Top speed: 160km/h
Range, NEDC: 550km
Charging time, DC fast charger, 30-80 per cent/AC slow charging: 30-minutes/11-hours
Length: 4,592mm
Width: 1,852mm
Height: 1,629mm
Wheelbase: 2,765mm
Luggage volume, minimum: 512-litres
Kerb weight: 2,130kg (estimate)
Steering: Electric-assisted rack & pinion
Suspension: MacPherson struts/five-link
Brakes, F/R: Ventilated discs/drums, regenerative
Tyres, F/R: 235/55R19/255/50R19
Newsletter
Get top stories and blog posts emailed to you each day.