You are here
Surprisingly sculptural
By Ica Wahbeh - Mar 28,2015 - Last updated at Mar 28,2015
AMMAN — Decorative yet functional, ornate yet minimalistic, imaginative and highly artistic are some attributes one can tag on Katia Al Tal's works on display at Wadi Finan Gallery.
Originally a sculptor, it came easy and normal to Tal to work with clay and produce the "Nuwa Creations" ceramics series, pure of colour and line, delicate but sturdy and surprisingly sculptural for such practical everyday objects.
Using German clay, "the best", Tal simply glazes it, maintaining its white purity.
Hollowing the objects to create beautiful calligraphic patterns, mostly sunbuli, inspired by the script in the book "The ring of the dove", by Ibn Hazm, the artist creates airy, sensual, mysterious and elegant objects that seem to radiate light even when they are not specifically created for that purpose, like the lamps.
Random letters meet in fluid, graceful and artistic calligraphy; they combine to form lacy ornamental pieces.
At times, black lettering is used by way of decoration, as is gold, sparingly on objects but covering entirely some elongated hugging silhouettes, perhaps hinting at rich, giving love.
"Nuwa" means core in Arabic, or love of some sorts. The theme of the exhibition, if one wishes to find one, is largely love. But the lying stylised bodies could also denote death and sensuality, togetherness and oneness, serenity or passion.
"The human body," says the artist, "is the most beautiful thing, especially when it is in harmony with its environment and itself".
The often playful, sensual bodies hanging head down, with legs in the air, are decorative objects in themselves, but could also become practical objects and serve as hangers of sorts, for jewellery, for a tie, a scarf or a belt.
Supplicant hands that come in pairs, as hands should, make for graceful sculptures in themselves, but can also work as support for light things or turn out to be lamps emitting light through the cut out intricate letters.
The two mysterious objects that project beautifully against their background — white ceramic letters meeting at odd angles overlaid with black writing are a surprise discovery: they serve as teapot and milk jug, two highly artistic functional articles one would hesitate before using for the purpose they were created for.
Surprises are aplenty for, besides the clearly serviceable, classic, tea or coffee cups or pots, and saucers, lamps or multipurpose bowls, one is delighted to discover torsos bending in a strange embrace serving as a tray, a woman's bent body as a bowl for nuts or hugging figures as a candle holder.
Two willowy stylised silhouettes, objets d'art in themselves, "hide" coasters that after use, puzzle like, will require careful attention to restore.
It is up to the users' imagination to "interpret" the objects and use them accordingly — if they have the heart to.
Sculptural and aesthetic, multifunctional and decorative, and, above all, creative, Tal's works find appreciation with a wide range of consumers.
Her creations are in private collections, but also in the Museum of Islamic Art in Qatar. They can please a household but also the most exigent art critic.
The works can be seen until April 13.
Related Articles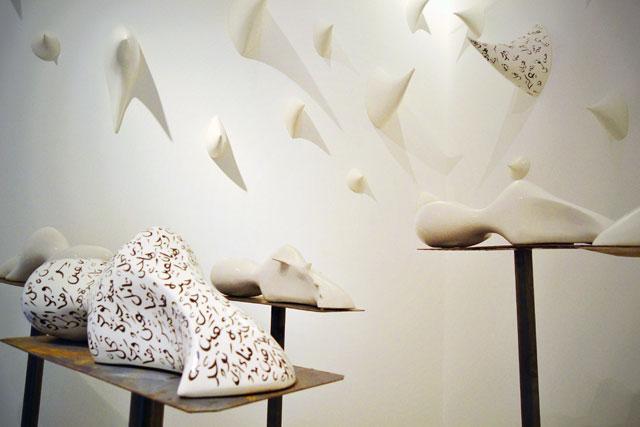 Oct 10,2017
AMMAN — Clay, Arabic calligraphy and creativity converge in the sculptures showcased at the Wadi Finan Art Gallery with "Elysian", the new e
Sep 24,2016
AMMAN — Several Jordanian artists presented their work at the seventh Beirut Art Fair last week, exhibiting contemporary art, handicrafts, s
Oct 10,2019
AMMAN — Wadi Finan Art Gallery created three solo exhibitions for Amman Design Week.The gallery showcases the exhibition by multimedia artis