You are here
Rafael Nadal's new racquet comes with an on/off switch
By AP - Jan 19,2015 - Last updated at Jan 19,2015
MELBOURNE, Australia — Rafael Nadal's new high-tech tennis racquet looks and feels like his old one. Except for the on-off switch.
Call it a "smart racquet", the latest advance in tennis technology tells you where you hit the ball — with the help of an app.
Sensors embedded in the handle of the racquet, made by Babolat, record technical data on every ball struck. At the end of a match or training session the data can be downloaded to a smart phone or computer and used to help analyse a player's strengths and mistakes.
Aside from the sensors, the racquet is just a racquet. It's the same size and weight as Nadal's old-fashioned former racquet.
"I know to play well I need to play 70 per cent of forehands, 30 per cent of backhands," Nadal said after racing through his first-round Australian Open match over Mikhail Youzhny, 6-3, 6-2, 6-2 on Monday. "If I'm not doing that, I know I'm not doing the right thing on court."
"This [racquet] is a way you can check these kinds of things," added the 14-time Grand Slam winner, who was sidelined for much of last season from a wrist injury and an appendix operation.
The International Tennis Federation had previously outlawed what it calls "player analysis technology" during competition but adopted a new rule last January that allows players to wear or use "smart" equipment, like Nadal's new racquet and devices like heart-rate monitors that record data about player performance in real time.
Babolat initially fitted the technology into its "Pure Drive" racquets, which are used by Karolina Pliskova, Julia Goerges and Yanina Wickmayer and then incorporated the sensors into a newly released racquet used by Nadal, Caroline Wozniacki and Jo-Wilfried Tsonga.
Don't expect to see players on their iPhones analysing their game mid-match. An ITF ban on coaching during matches prevents players from consulting the data on court.
The way it works is simple, says Thomas Otton, the company's director of global communications.
There are two buttons on the bottom of the racquet's handle.
"You press the 'on' button. A blue LED light appears. And, you play," Otton said. When finished, a second button is pressed, activating Bluetooth which synchs the information with a smart phone or other device.
Otton called up Nadal's data from his practice session on Friday that lasted 1 hour, 31 minutes. In that time, he hit 572 shots, or 22 per minute, which broke down to 156 backhands, 222 forehands, 118 serves and 76 smashes.
The data also gets more detailed and analyses, for example, how Nadal hit his forehands — 133 had topspin, 49 had slice and 40 were flat.
Swipe to the next screen and an image of a tennis racquet appears that shows where the ball is making impact. For Nadal's practice, he hit 42 per cent of shots in the centre and 20 per cent on top of the racquet — the rest on the bottom and sides.
At a demonstration of the racquet before the tournament started, Wozniacki and Nadal joked about the pros and cons of knowing too much.
"Sometimes it's not a good thing," said Wozniacki. "Because you think you're hitting it in the middle of the racquet, but really it shows you you're not. And there's no going around that."
Nadal's uncle and coach, Toni, joked that the racquet would give him an edge.
"Sometimes when I correct Rafa on how he's hitting the ball, he doesn't agree," said Toni. "Now I have the data."
Nadal retorted, without missing a beat, "Now he has the data to know that he was wrong."
Related Articles
Jul 03,2014
The time is upon us when we won't be able do a thing without connectivity and an app that goes with it. From drinking a cup of coffee to heating a dish in the microwave oven, brushing your teeth or checking your car's maintenance log file, everything is moving toward getting connected one way or another; slowly but surely. That's what is referred to as The Internet of Things (IoT), one of the most recent concepts and terms added to the IT jargon.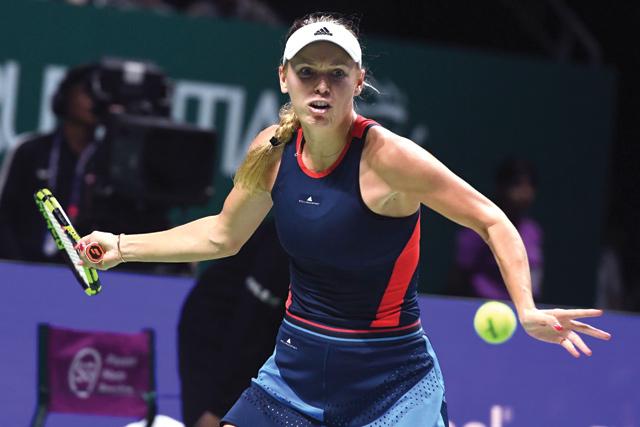 Oct 23,2018
APORE — Caroline Wozniacki overcame a mid-match wobble and withstood a barrage of big hitting to get her WTA Finals title defence back on tr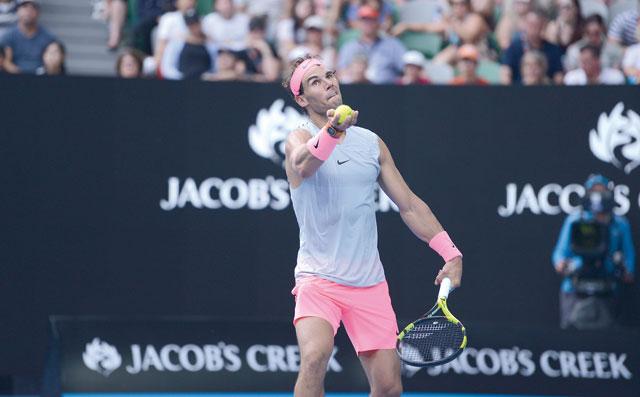 Jan 21,2018
MELBOURNE — Top seed Rafa Nadal was rattled by a feisty challenge from Diego Schwartzman, but held firm to fend off the diminutive Argentine