You are here
Mercedes-Benz S450 4Matic LWB: Stylish, 'straight six' sophistication
By Ghaith Madadha - Jan 23,2023 - Last updated at Jan 23,2023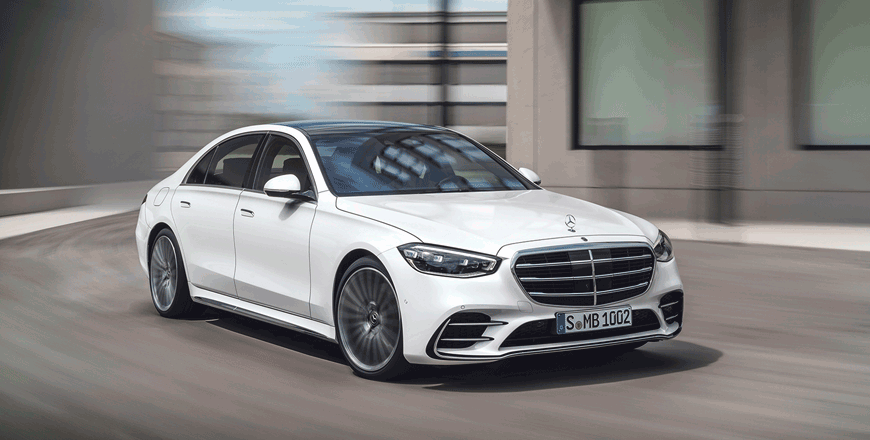 Photo courtesy of Mercedes-Benz
The go-to car for plutocrats, politicians, potentates, the diplomatic corps and VIPs of various shades, the Mercedes-Benz S-Class is uniquely positioned even among its large luxury car competitors. Since its 1959 introduction, the S-Class built an image of a stern, stately and "serious" luxury car underpinned by a reputation for "bullet-proof" reliability and longevity, but none of overt and ostentatious trappings and associations often associated with many rivals. A car that made a statement associating power with responsibility rather than foppish frivolity, the S-Class is a standout car that remains discrete, if not quite austere.
Stately and subtle
Less likely to inspire the ire of the masses, the S-Class's ability to better blend in the background than gaudier alternatives, was another big selling point. Still trading on many of the same qualities, the latest generation S-Class was introduced in 2020, and arguably better captures such classy conservatism than its previous three incarnations. With an elegantly long bonnet, rearwards cabin and short front overhang juxtaposed with a long rear overhang, its smoother design puts less emphasis on aggressive surfacing, and features a rakishly descending and tapered-in rear, which helps generate exceptionally low CD0.22 aerodynamic efficiency.
Assertive yet restrained with its more upright and almost arrogant fascia, high-set slim headlights and broad grille, the latest S-Class is even more luxuriously upmarket than its immediate predecessor. A "space age" machine next to historic models, its significantly enhanced technology features include a raft of new and improved comfort, connectivity, infotainment, driver-assistance and semi-autonomous systems too numerous to list here. In short, when fully equipped and enabled where legal, the current S-Class is capable of claimed Level 3 driving and level 4 parking autonomy on a scale of 0-5.
Smooth system
Notable for readopting inherently balanced in-line six-cylinder engines in lieu of its predecessor's V6 configuration, the driven S450 4Matic (LWB) version's twin-turbocharged 3-litre "straight six" is smaller, smoother and more efficient, yet more powerful than its predecessor. Developing 362BHP at 5,500-6,100rpm and ample 369lb/ft torque over a wide and accessible 1,600-4,500rpm torque band, the S450's combustion engine is complemented by a 48V starter/generator mild hybrid system. Subtle and near imperceptible in operation, the un-intrusive 21BHP, 184lb/ft mild hybrid system is primarily concerned with running electric and ancillary systems, and improving efficiency.
With responsive quick-spooling turbos, the S450 accelerates through 0-100km/h in 5.1-seconds, and onto an electronically-limited 250km/h. Digging deep to eke out maximum thrust on steep inclines, the S450's purring revs rise with subdued urgency as it reaches for its redline in a clean, consistent manner. Briskly athletic but no super saloon, the S450's performance is pitch-perfect for an entry-level petrol model, providing muscularly confident driving. It also allows more opportunity to get better acquainted with its rev limit and full engine characteristics in such conditions, than is experienced with more abundant engine versions.
Sublime steering
Driven through a smooth shifting 9-speed automatic gearbox, the S450 4Matic's rear-biased all-wheel-drive delivers rear-drive like handling, with power sent frontward for additional traction when needed. Tidy into corners with accurate steering, it is balanced through winding switchbacks, but over-cautious electronic stability controls tend to curb power at a hint of grip loss, even in "Sport" mode, and limit one from intuitively exploring handling and grip limits, and tightening cornering lines. Tauter and more responsive with steering, gearbox and suspension in "Sport" mode, the S450's core characteristics remain consistent, but more focused.
Equipped with all-wheel-steering turning rear wheels opposite to the front to effectively shorten its wheelbase and make it more nimble and manoeuvrable at lower speeds, the new S-Class's agility belies its substantial length. Pivoting by 4.5° in Jordanian specification (and optionally by 10° for certain markets), the rear wheels turn along with the front at speed for increased lane-changing stability. A natural continent-shrinking high-speed luxury express with composed stability and refinement, the S450's dynamic forte is its sublime ride comfort, even when fitted with larger, firmer AMG wheels, as driven.
Supple stability
Supple over road imperfections, the S450's air suspension takes the edge off bumps and cracks, and wafts along with a gently nuanced and rippled ride quality, without feeling aloof or disconnected. Dispatching unevenly lumpy roads without shunting passengers side to side, the S450 is best in "Comfort" mode, where a lighter touch and less aggressive inputs persuade it to hustle through snaking roads with impressive poise. Well controlling cornering lean, its ride is meanwhile settled in vertical movements and reactions, but with a long wheelbase, its otherwise wonderfully forgiving suspension can compress slightly more than ideal over sharp, sudden road dips.
A reassuring and refined ride for long journeys, the S450's luxurious, well-insulated cabin is comfortable, cosseting and finished with quality materials and quilted leathers. Tastefully styled, ergonomic and spacious, with highly adjustable front and rear seats, the S450's equipment includes comprehensive convenience, comfort and sophisticated safety features, including a slim digital instrument panel and superb sound system. Its large infotainment screen accesses most functions, but is not as initially intuitive as buttons and dials. Generous at 550-litre capacity, the S-Class's boot volume is, however, reduced by the above floor-mounted regional specification spare tyre.
TECHNICAL SPECIFICATIONS
Engine: 3-litre, twin-turbo, in-line 6-cylinders
Bore x stroke: 83 x 92.4mm
Compression: 10.5:1
Valve-train: 24-valve, DOHC, direct injection
Gearbox: 9-speed automatic, four-wheel-drive
0-100 km/h: 5.1-seconds
Maximum speed: 250km/h
Power, BHP (PS) [kW]: 362 (367) [270] @5,500-6,100rpm
Specific power: 122BHP/litre
Power-to-weight: 179BHP/tonne
Torque, lb/ft (Nm): 369 (500) @1,600-4,500rpm
Specific torque: 167Nm/litre
Torque-to-weight: 247Nm/tonne
Fuel consumption, combined: 7.8-8.4 litres/100km
Hybrid system: 48V starter/alternator
Electric power, BHP (PS) [kW]: 21 (22) [16]
Electric torque, lb/ft (Nm): 184 (250)
Length: 5,289mm
Width: 1,921mm
Height: 1,503mm
Wheelbase: 3,216mm
Track, F/R: 1,660/1,688mm
Overhang, F/R: 877/1,196mm
Aerodynamic drag co-efficiency: 0.22
Legroom, F/R: 1,051/1,115mm
Boot capacity: 550-litres
Kerb weight: 2,025kg
Steering: Electric-assisted, rack and pinion, four-wheel-steering
Maximum rear steering angle: 4.5°
Turning circle: 11.9-metres
Suspension: Multilink, adaptive air dampers
Brakes: Ventilated discs
Tyres, F/R: 255/40R20/285/35R20
Related Articles
Dec 08,2014
A car that aspires to be the best in the world and the vehicle on which Mercedes-Benz traditionally rolls out innovative new technologies. Whether this or previous S-Class models are or have been the best car in the world, as marketing spin would suggest, is a subjective matter open to interpretation debate and criteria.
Apr 16,2018
A harmonious combination of the two things that the Stuttgart tri-star brand does especially well, the Mercedes-AMG S63 4Matic+ is a brutall
Oct 12,2020
Set to be replaced with a seventh generation model unveiled in recent weeks that will eventually roll out in the Middle East, the sixth gene