You are here
Family friendly supercars
By Ghaith Madadha - Sep 26,2023 - Last updated at Sep 26,2023
Evolving as a cross between performance coupes and family estates since the 1990s, the compact executive super estate segment brings together sporty high performance driving with family-friendly hauling ability and premium cache, but without high-riding SUV drawbacks. Absent high performance wagon versions of the Alfa Romeo Giulia, Jaguar XE and other, the super estate segment is highly specialised, almost extinct, and now almost exclusively German.
Audi RS4 Avant (Competition Plus Package)
Ever since it married a Porsche-tuned version of the iconic Quattro's engine and four-wheel-drive to the practical 80 Avant estate as the 1994 RS2 Avant, Audi has been the pre-eminent purveyor of high performance estates. Its current compact executive RS4 Avant super wagon is the most accomplished in its segment as one of the fastest, most practical and sure-footedly safest ways to travel.
Downsized from its gloriously high-revving naturally-aspirated 4.2-litre V8 powered predecessor, the current RS4's 2.9-litre twin-turbocharged V6 engine nevertheless remains as powerful as any "dad racer" needs, with 444BHP at 5,700-6,700rpm and a brawnier 442lb/ft at 1,900-5,000rpm. Civil and sedate when cruising, but viscerally volcanic when pushed, the RS4 rockets through 0-100km/h in 3.9-seconds and onto a derestricted 290km/h maximum with the optional Competition Plus package.
Elegantly aggressive without being overstated, the RS4 is stylish and well-equipped inside, with minimum 495-litres luggage capacity. But more pertinent to a super car that ostensibly remains a family car, is its thoroughly proven Quattro four-wheel-drive. Driving with slight rear bias to off-set a nose-heavy configuration and provide enhanced agility, the Quattro system nevertheless provides huge levels of reassuring and user-friendly road-holding in low traction conditions.
Specifications
Engine: 2.9-litre, twin-turbocharged V6-cylinders
Gearbox: 8-speed automatic, four-wheel-drive, locking centre differential
Power, BHP (PS) [kW]: 444 (450) [331] @5,700-6,700rpm
Torque, lb/ft (Nm): 442 (600) @1,900-5,000rpm
0-100km/h: 3.9-seconds
Top speed: 290km/h (derestricted)
Fuel consumption, combined: 9.6l/100km
Length: 4,782mm
Width: 1,866mm
Height: 1,438mm
Wheelbase: 2,826mm
Weight: 1,820kg
Luggage volume, min/max: 495-/1,495-litres
Suspension: 5-link, anti-roll bars
Tyres: 275/30R20
BMW M3 Competition Touring xDrive
Expected to be the most driver-oriented car in its class — even if 120kg lardier than the Audi RS4 Avant — the M3 Competition Touring xDrive is the first ever estate variant of BMW's often sublime compact executive saloon, since its 1986 inception. Its long-winded name , meanwhile, indicates that this practical body style is only available with the more powerful M3 engine variant mated to an all-wheel-drive system.
Overtly aggressive with complex lines and sharp angles, the M3's controversial design incorporates a vast and snouty interpretation of BMW's signature twin kidney grille. Its long bonnet and visually rear weighted design meanwhile indicate a sporting potential derived from its classically balanced rear-wheel-drive based architecture and silky smooth "straight six" 3-litre twin-turbocharged engine configuration, developing a mighty 503BHP at 6,250rpm and 479lb/ft throughout 2,750-5,500rpm.
Sensationally swift with 3.6-second 0-100km/h acceleration and 280km/h derestricted top speed, the M3 Touring's expectedly premium cabin meanwhile proves unexpectedly spacious with 500-litre minimum luggage volume. Utilising all-wheel-drive to more reassuringly channel its massive output for enhanced traction and grip, the M3 wagon's standout characteristic is however its agile sports car handling traits, which includes a rear-drive only mode and limited-slip rear differential.
Specifications
Engine: 3-litre, twin-turbocharged in-line 6-cylinders
Gearbox: 8-speed automatic, all-wheel-drive, limited slip rear differential
Power, BHP (PS) [kW]: 503 (510) [375] @6,250rpm
Torque, lb/ft (Nm): 479 (650) @2,750-5,500rpm
0-100km/h: 3.6-seconds
Top speed: 280km/h (derestricted)
Fuel consumption, combined: 10.l/100km
Length: 4,794mm
Width: 1,903mm
Height: 1,436mm
Wheelbase: 2,857mm
Weight: 1,940kg
Luggage volume, min/max: 500-/1,510-litres
Suspension, F/R: MacPherson strut / 5-link, anti-roll bars
Tyres, F/R: 275/35R19 / 285/30R20
Mercedes-AMG C63 E Performance Estate (Driver's Package)
Understatedly assertive, stylishly classy and packed with technology and brutal performance levels, the Mercedes-AMG C63 E Performance Estate' name may be a word salad, but it is a tour de force that significantly outpowers segment competitors. That said, a question mark hangs as to whether this overkill approach compromises its role as both a rewardingly agile and sporty driver's car and as a practical family estate.
The E63 Estate is powered by a small prodigious 2-litre turbocharged 4-cylinder engine developing 469BHP at 6,750rpm and 402lb/ft at 5,250-5,500rpm, complemented with a 201BHP and 236lb/ft electric motor for a total of 670BHP for short 10-second bursts. The result is warp-like 3.4-second 0-100km/h acceleration, derestricted 280km/h top speed, and comparatively moderate fuel consumption. However, synthetic engine noises replace its predecessors' gloriously authentic V8 soundtrack.
Heaviest on this list at 2,145kg, the E63 wagon is some 900kg heavier than its Cosworth-tuned 1985 Mercedes-Benz 190 2.3-16 spiritual predecessor. Expected to be too heavy to be a truly nimble driver's car, it employs all-wheel-drive, all-wheel-steering, limited-slip differential and adaptive dampers to manage weight. Its large battery pack meanwhile restricts minimum luggage capacity to just 320-litres, not including a spare tyre, while EV range is only 13km.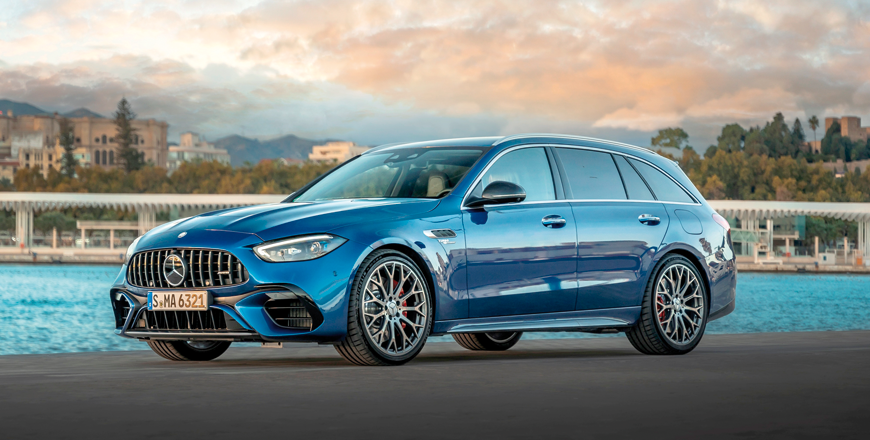 Specifications
Engine: 2-litre, turbocharged in-line 4-cylinders and electric motor
Gearbox: 9-speed automatic, all-wheel-drive, limited slip rear differential
Combined power, BHP (PS) [kW]: 670 (680) [500] @6,750rpm
Combined torque, lb/ft (Nm): 638 (865) @5,250-5,500rpm (estimate)
0-100km/h: 3.4-seconds
Top speed: 280km/h (derestricted)
Fuel consumption, combined: 6.9/100km
Length: 4,842mm
Width: 1,900mm
Height: 1,474mm
Wheelbase: 2,875mm
Weight: 2,145kg
Luggage volume, min/max: 320-/1,335-litres
Suspension: Multi-link, adaptive dampers
Tyres, F/R: 265/35R20 / 275/35R20
Related Articles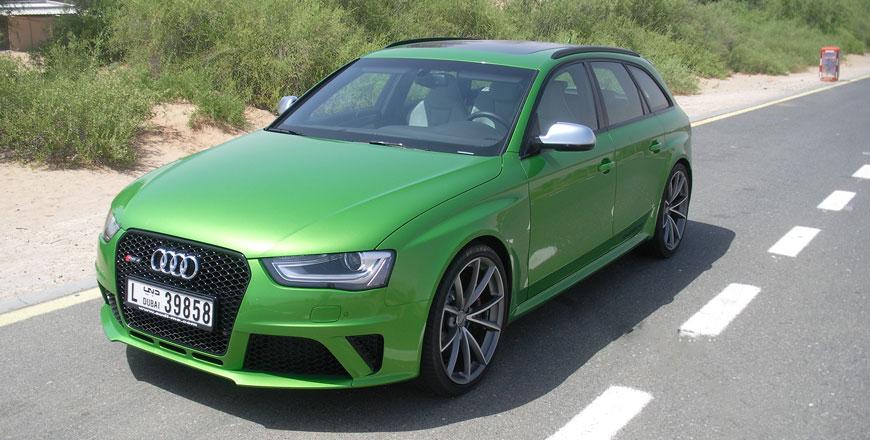 Jun 22,2015
A modern motoring hero likely to be a future classic in its' own right, the Audi RS4 Avant is a classy but muscular high performance compact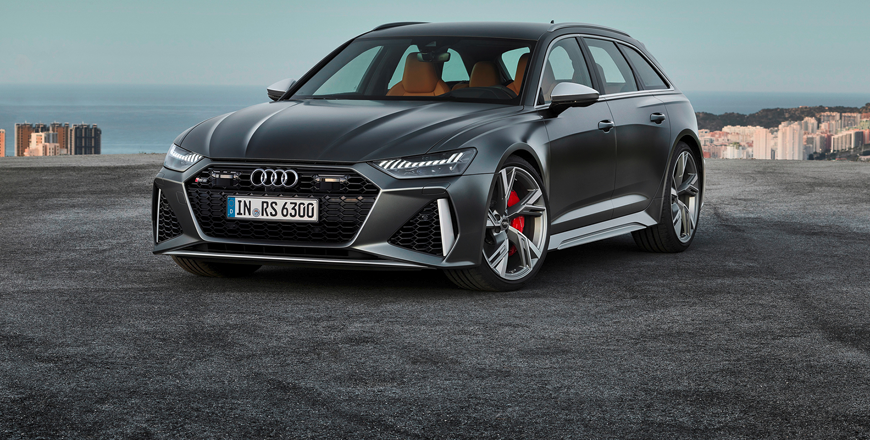 Sep 26,2022
A niche automotive sub-genre beloved by many diehard petrolheads and auto enthusiasts over high, heavy and lumbering crossovers and SUVs, th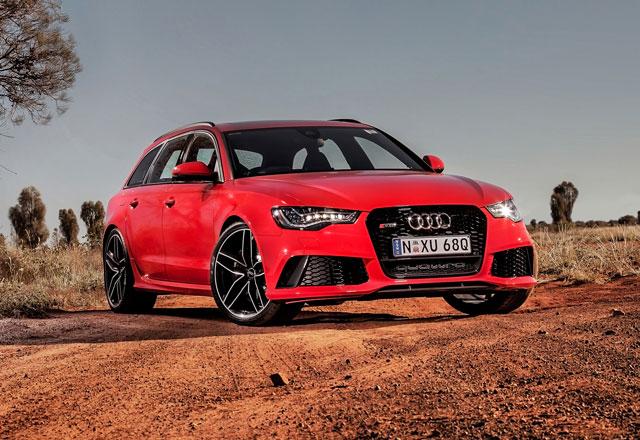 Oct 13,2014
The go-to company for fast estate cars, Audi's RS cars have included the now classic 1994-95 RS2 and several RS4 and RS6 models. Termed an "Avant" in Audi-speak, the innovative Ingolstadt car maker's first ever wagon was offered in a performance version.