You are here
Changan CS85 Coupe: Dramatic up and comer
By Ghaith Madadha - Sep 06,2021 - Last updated at Sep 06,2021
Photos courtesy of Changan
Launched in 2019, the Changan CS85 Coupe is the Chinese manufacturer's gambit into the trendy but somewhat niche so-called four-door-coupe crossover and SUV segment. Similar in its low-slung roofline, dimensions and performance, the CS85 finds itself in a sparsely populated segment, with the BMW X4 and Mercedes-Benz GLC-Class Coupe as its closest competitors. Perhaps Changan's best effort to date, a first, albeit short, test drive of the CS85 indicates that it is something of a viable asymmetrically priced challenge to four-cylinder combustion engine versions of said Germans.
Convincing contender
Currently discounted to JD34,000, the CS85 Coupe is certainly at the pricier end of Changan's model line-up. However, it is a veritable bargain next to the X4 and GLC-Coupe. And while it lacks the same premium brand name recognition and more high tech electrification features, that is not to say it is a bargain basement alternative. Well-equipped, quick and with a sportingly-flavoured and surprisingly up-market interior, Changan's effort instead feels and drives more like a convincing up and coming near premium brand challenger in this non-traditional segment than elsewhere.
As dramatic as rivals with its broad stance, high ride and rakishly descending roofline, the CS85's fashion-led crossover coupe design seems particularly well suited to a fresh and comparatively new brand like Changan. Sporting flavours meanwhile also include quad tailpipes, huge integrated grille and lower intakes, chiselled surfacing, big alloy wheels and muscular arches. More spacious than its rakishly sloping roofline would imply, the CS85's well-packaged cabin even quite comfortably accommodates tallish adults in the rear, while rear visibility and manoeuvrability are complemented with reversing camera, blindspot and lane departure warnings.
Responsive and punchy
Powered by the same prodigious engine as the significantly larger and heavier Changan CS95 flagship SUV model, the CS85's turbocharged 2-litre four-cylinder feels noticeably more potent and perkier in this application. Producing 230BHP at 5,000-5,500rpm and a mighty 266lb/ft throughout a broad and easily accessible 1,750-3,500rpm band, the CS85's punchy motor carries its estimated 1,735kg mass through 0-100km/h in 7.5-seconds and onto a top speed estimated at over 200km/h. Driving the front wheels through a smooth, slick shifting 8-speed automatic gearbox, the CS85 returns comparatively modest 7.9l/100km combined cycle fuel efficiency.
Relatively low-revving yet punchy and with muscular mid-range pull for confidently overtaking and climbing inclines, the CS85's engine is notably responsive. With its turbocharger spooling up swiftly, the CS85's engine seems to virtually negate the low-end lag often associated with turbocharged engines. Pulling clean from idling, the engine sweeps robustly through mid-range, and remains eager in delivery to its peak power output. Refined and smooth, the CS85's engine and gearbox feature four Normal, Sport, Eco and Snow driving modes, which modulate throttle control, gearshifts and other parameters.
Promising impressions
Putting down its muscular power and torque to tarmac through its front wheels, the CS85 delivers confident traction, and barely a perceptible tug at the steering at full throttle from standstill, rather than any noticeable torque steer, wheel spin or electronic modulation of this, as is the case for some powerful front-drive vehicles. Confident on road, the CS85 turns tidily into corners and delivers reassuringly good grip, with only slight understeer or torque steer evident through a particularly tight and steeply inclined yet briskly driven corner, during test drive.
In mostly urban condition, the short test drive painted a first impression of a crossover that well reconciles dynamic ability with ride comfort. Responsive into corners and with good body control throughout, the Changan CS85 meanwhile delivers reassuring rear grip on exit. Its 225/55R19 tyres seemed to provide good grip and ride compliance, while its steering was quick, light, direct and accurate, if not especially nuanced for road feel and texture. Maneuverable yet committed through corners, the CS85 meanwhile seemed stable and settled at speed.
Classy comfort
Riding comfortably, if slightly on the firm side, the CS85 dispatched minor road imperfections with settled ease. Dynamically promising, the CS85 meanwhile delivered good vertical control when dismounting bigger speed bumps, with less suspension compression than many rivals, which invites one to wonder how its handling abilities would stack up in comparison to German crossover coupes on a lengthier and more demanding test drive. Seemingly rigid and well built, the CS85 confident ride was meanwhile complemented with a good level of cabin refinement from noise, vibration and harshness.
With deep red leather upholstery and contrasting black dashboard, contoured steering wheel, electrically-adjustable sports seats, and sophisticated piano black panels, the CS85 has a sporty yet luxurious ambiance inside. Stylish with its wide and high centre console and horizontally-oriented design, the CS85 features fresh and user-friendly layouts, including twin infotainment and configurable instrument cluster screens. Its driving position is comfortable and supportive, but could benefit from slightly longer steering reach adjustability. The CS85 is meanwhile well equipped with extensive comfort, safety, convenience and tech features, even including remote key-activated parking capability.
TECHNICAL SPECIFICATIONS
Engine: 2-litre, transverse, turbocharged 4-cylinders
Valve-train: 16-valve, DOHC, direct injection
Gearbox: 8-speed automatic, front-wheel-drive
Power, BHP (PS) [kW]: 230 (233) [171.3] @5,000-5,500rpm
Specific power: 115BHP/litre (approximately)
Power-to-weight: 132.5BHP/tonne
Torque, lb/ft (Nm): 266 (360) @1,750-3,500rpm
Specific torque: 180Nm/litre (approximately)
Torque-to-weight: 207.5Nm/tonne (estimate)
0-100km/h: 7.5-seconds
Fuel consumption, combined: 7.9-litres/100km
Fuel capacity: 58-litres
Length: 4,720mm
Width: 1,845mm
Height: 1,665mm
Wheelbase: 2,705mm
Track, 1,565mm
Luggage volume, minimum: 418-litres (estimate)
Kerb weight: 1,735kg (estimate)
Suspension, F/R: MacPherson struts/multi-link
Steering: Electric-assisted rack & pinion
Brakes, F/R: Ventilated discs/discs
Tyres: 225/55R19
Price, on-the-road, with third party insurance: JD34,000
Related Articles
Sep 27,2021
Debuting in China in 2019 and introduced in Jordan in recent weeks, the Changan CS75 Plus is a testament to just how quickly the Chinese aut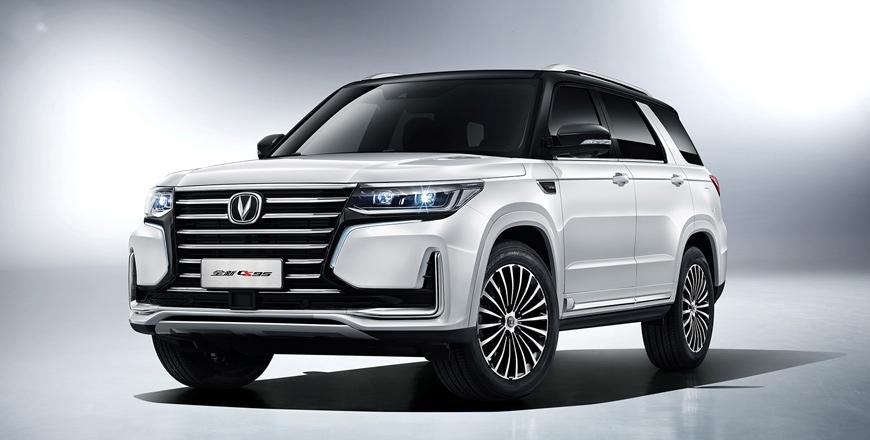 Jan 25,2021
The largest and most luxurious offering from China's state-owned automotive Changan, the CS95 makes a clear and bold statement about the bra
Jan 11,2021
Produced by Chinese state-owned automaker Changan since 2014 and face-lifted in 2018, the CS75 is a convincingly well-rounded value alternat