You are here
Balancing between loyalty and independence
By Sally Bland - Mar 05,2023 - Last updated at Mar 05,2023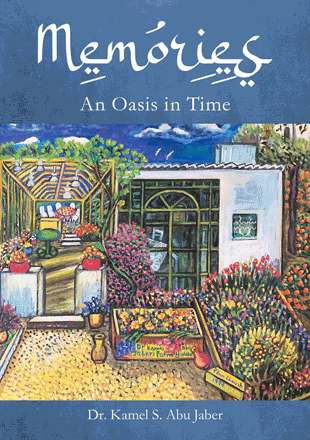 Memories: An Oasis
in Time
Kamel S. Abu Jaber
UK: Hesperus Press Limited, 2023
Pp. 203
In a disarmingly straight-forward manner, the late Dr Kamel Abu Jaber has recalled the big events and meaningful details of his life, in a memoir posthumously prepared for publication by his wife, Loretta Pacifica Abu Jaber. From rollicking descriptions of schoolboy pranks at the Bishop's School, to observations gleaned while serving Jordan in various capacities, Abu Jaber's modesty, intellectual acumen and sly sense of humour shine through. At the same time, his account sheds light on the huge transformations Jordan underwent during his life span, signifying both continuity and change.
Abu Jaber often highlights the unexpected, including the contrasts which exist side-by-side in Jordan, belying the superficial impression that it is a monolithic or even dull country. Such contrasts extend to his own family: "My mother was a devout Anglican, my father a devout Bedouin…" as cited on the back cover of the book.
The initial focus is on Salt, Yadudeh and Amman, the three pivotal locations of his family and his own life, though later chapters cover his world travels. He traces his family's origins to a Muslim tribe of Beer Al Sabi' in South Palestine, and prior to that, Yemen. Bringing his lineage up to date, he states: "However exaggerated this account [for there are other narratives of the Abu Jabers' origins], the relations today between the Muslim Abu Jabers, now refugees having been expelled from their ancestral homeland by Israel, following the Arab-Israeli War of 1967, and the East Jordanian Christian Abu Jabers are very amicable." (p. 13)
Close relations between Palestinians and Jordanians, and between Christians and Muslims, are a thread that courses throughout the book. The first chapters are quite fascinating as they trace Abu Jaber's immediate ancestors, whose lives were entangled with the fateful events of the first half of the 20th century, with many of them being actively involved. One can only agree when he says of the Sykes-Picot Agreements and the Balfour Declaration: "These two betrayals committed behind the backs of the Arabs remain, to this day, major factors in Arab politics." (p. 37)
Politics entered Abu Jaber's life with awareness of the Palestinian cause. "I always felt deeply disturbed by the hostility between Arabs and Jews. Things could have been different had the Zionists approached the Arabs in a different, peaceful, manner… In their quest to liberate themselves from the ghettos of Europe and America, they destroyed their only real and true friendship, that with the Arabs… in their escape from the Western ghettos, they imposed upon themselves a larger ghetto, called Israel… (pp. 93-94)
As a schoolboy in 1948, he planned with friends to escape to Palestine and join the forces of Abdul Khader Al Husseini or Fawzi Al Qawuqji, but his plan was thwarted. "Today my generation, like those before and probably those after, views the world through the lens of the Palestine Problem." (p. 97)
In his life and career, Abu Jaber balanced between East and West, between academia and politics, between seeking peace with an intransigent enemy and standing up for Palestinian and Arab rights. Educated and married in the US, Abu Jaber nonetheless sought to return to Jordan, thinking his country would need him, especially after the 1967 Arab defeat. Ironically and inexplicably, despite repeated applications, he was turned down by Jordan University, and ended up teaching at several US universities in the interim. Finally, via a personal intervention, he discovered that his rejection was the result of a misunderstanding, and he was hired on the spot.
However, less than a year later, he was requested to become Cabinet minister of national economy. Thereafter followed years of alternating between teaching and holding official posts, too numerous to detail here, well into his semi-retirement. Most notably, he served as foreign minister which led directly to his heading the joint Jordanian-Palestinian delegation to the peace conference in Madrid in 1991, the eventual failure of which he places squarely on the Israeli government's shoulders. It is indicative of Abu Jaber's generosity and sense of fairness that he gives credit to his aides in the various posts he held.
There are many reasons to enjoy reading this book. The chapters on his family background and childhood are enchanting, and are very informative about local culture. Teachers, like this reviewer, will be interested in his descriptions of the school day back in the 1940s. Historians will appreciate his perceptive take on political events and frank revelations about his occasional disagreements with official Jordanian policy, as he combined Arab nationalism with loyalty to Jordan, while always maintaining a degree of independence.
The book cover is graced with Riham Al Ghassib's quaint and colourful depiction of the Abu Jaber farm, while historical pictures compiled by Loretta Abu Jaber add to the text's appeal. "Memories" is available at the Jordan Book Centre and select bookstores in Amman.
Newsletter
Get top stories and blog posts emailed to you each day.