You are here
Walmart narrowly lifts forecast as inflation stays consumer concern
By AFP - Nov 17,2023 - Last updated at Nov 17,2023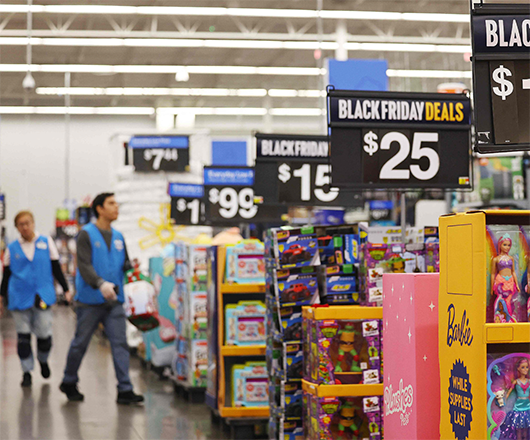 Barbie dolls are displayed for sale ahead of Black Friday at a Walmart Supercenter on Tuesday in Burbank, California (AFP photo)
NEW YORK — Walmart narrowly lifted its full-year forecast on Thursday following solid quarterly results as it continued to navigate a market challenged by elevated pricing that has depressed demand for some goods.
The giant retailer, which emphasises its strength as a value-oriented vendor, reported profits of $453 million. That compares with a loss of $1.8 billion in the 2022 period, which was hit by large costs tied to an opioid settlement.
Revenues rose 5.2 per cent to $160.8 billion.
The giant retailer now expects full-year profits of between $6.40 to $6.48 per share, up from the prior range of $6.36 to $6.46 a share.
"We had strong revenue growth across segments for the quarter, and we're excited to get an early start to the holiday season," said Chief Executive Doug McMillon.
"From a Thanksgiving meal that costs less than last year, to great prices on fashion, toys, electronics and seasonal decorations, we're here to help families from around the world make this a special time."
Walmart's US division, which accounted for more than two-thirds of revenues, scored a 4.9 per cent jump in comparable sales.
While that is still an impressive count, it is down from more than 8 per cent growth in the year-ago period.
Walmart bills itself as an affordable option for cash-strapped consumers, pointing to the benefits of tremendous economies of scale as the world's biggest retail chain.
The retailer pointed to strong sales in groceries and pharmacy goods, offsetting weakness in discretionary items such as apparel, home and toys.
Results during the quarter were also dented somewhat by elevated spending on store remodels.
During a conference call with analysts, McMillon acknowledged that the company "could have done a better job on expenses".
However, Walmart said it benefitted from lower supply chain costs compared with the 2022 quarter, when it also heavily marked down merchandise due to oversupply.
Shares fell 6.3 per cent in pre-market trading.
Related Articles
Aug 17,2021
NEW YORK — Walmart lifted its full-year forecast on Tuesday following another solid performance at its US stores in the second quarter even
Aug 16,2022
NEW YORK — Walmart reported a jump in quarterly revenues on Tuesday partly driven by inflation as the retail giant signalled it expects its
Nov 15,2018
WASHINGTON — Global retail giant Walmart is more upbeat about earnings for the year, despite tamping down expectations just a month ago, aft