You are here
US Fed official says rate cut unlikely in 'short term'
By AFP - Nov 10,2023 - Last updated at Nov 10,2023
The US Federal Reserve Building is seen in Washington, DC, May 3 (AFP photo)
WASHINGTON — The US Federal Reserve (Fed) is likely done raising interest rates to tackle inflation but probably won't cut them "in the short term", a senior policymaker said on Wednesday.
The Fed recently voted to hold its benchmark lending rate at its current 22-year high for the second consecutive meeting, and indicated it still has "a long way to go" to bring inflation down to its long-run target of 2 per cent.
Although inflation is still above this level, it has slowed markedly since last year, while the US economy remains resilient, and the labour market is showing signs of weakening — raising hopes the Fed can tame price increases while avoiding a recession.
In prepared remarks Wednesday, Philadelphia Fed President Patrick Harker told a conference in Evanston, Illinois, that he felt holding interest rates at their current, restrictive, level was the right course of action.
"With monetary policy, there are always lags. Holding the rate steady will give those lags time to catch up," said Harker, a member of the Fed's rate-setting committee.
"While I see us on the path of taming inflation and protecting our economic underpinnings, I would also caution that a decrease in the policy rate is not something that is likely to happen in the short term," he added.
Harker said that rates would likely need to remain "higher for longer, as the other downward pressures on inflation work in tandem with the current policy rate to return our economy to balance".
The comments from Harker, a relatively "neutral" policymaker according to a recent Deutsche Bank report, underscores the difference of opinion between members of the Fed's interest rate-setting committee.
Most policymakers indicated back in September that they expect one more interest rate hike before the year is out.
But since then, a number of them have suggested that the Fed may be done hiking, even as others have continued to back the prospect of further monetary tightening, if needed.
On Tuesday, Fed Governor Michelle Bowman told a conference in Ohio that she continued to expect the Fed will need to raise rates further "to bring inflation down to our 2 per cent target in a timely way."
"I see a continued risk that core services inflation remains stubbornly persistent," she added, referring to a measure of inflation that strips out volatile components like food and energy.
Futures traders currently assign a probability of more than 90 per cent that the Fed will vote to hold interest rates steady at its next rate meeting in December, according to data from CME Group.
Related Articles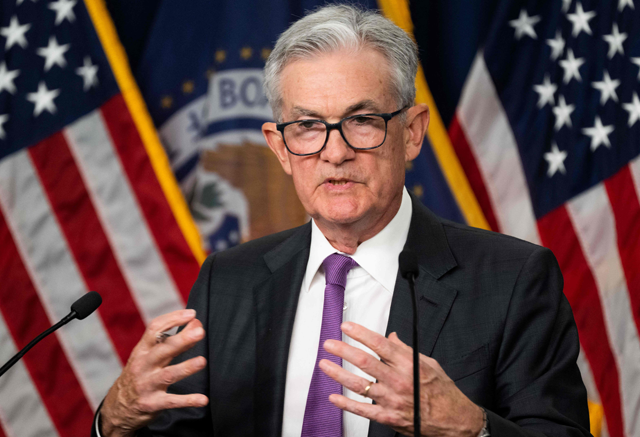 Aug 26,2023
WASHINGTON — The US Federal Reserve (Fed) is prepared to raise interest rates higher — and hold them there — to bring down above-target infl
Jul 23,2023
Washington — After pausing in June, the US Federal Reserve (Fed) is widely expected to hike interest rates again on Wednesday, adopting its
Jan 15,2022
LONDON — Stock markets retreated on Friday as US retail sales and bank earnings disappointed and investors worried the Fed may hike interest