You are here
UAE approves mega gas project weeks ahead of COP28
By AFP - Oct 05,2023 - Last updated at Oct 05,2023
DUBAI — Emirati energy giant ADNOC said on Thursday it had awarded contracts to build a major gas project, just a few weeks before the Gulf state hosts the COP28 climate conference.
The company said it would invest in the Hail and Ghasha offshore fields, pledging that it would be the "world's first project that aims to operate with net zero emissions".
The two contracts, signed on the final day of the Abu Dhabi Energy Show, had a total estimated value of $16.9 billion, it said in a statement.
Construction work on the site has been entrusted to a joint venture between the Abu Dhabi-based National Petroleum Construction Company and Saipem of Italy.
Another Italian company, Tecnimont, will be responsible for onshore infrastructure.
ADNOC said the project includes "innovative de-carbonisation technologies" to capture and store 1.5 million tonnes of CO2 per year
The Hail and Ghasha projects are part of the Ghasha concession in the emirate of Abu Dhabi, which aims to produce more than 1.5 billion cubic feet of gas per day by 2030.
"ADNOC will continue to responsibly unlock its gas resources to enable gas self-sufficiency for the UAE, grow our export capacity and support global energy security," it said in the statement.
The concession is operated by ADNOC, Eni, OMV, Wintershall Dea and Lukoil.
In a report published in September, experts from the Climate Action Tracker group highlighted the UAE's "dependency on gas for electricity", expressing concern about the COP28 host's commitment to carbon capture.
The UN climate conference, which opens in Dubai on November 30, is being chaired by ADNOC head Sultan Al Jaber.
His appointment to the post has drawn criticism from environmentalists, who denounce the role of the hydrocarbon sector in global warming.
At the opening of the Abu Dhabi conference on Monday, Jaber said the industry was "at the heart of the solution" to climate change, calling on industry representatives to "silence the sceptics".
He reiterated that the gradual phase-out of fossil fuels was "inevitable and essential", while emphasising the global economy's dependence on oil, gas and coal.
ADNOC made a commitment in July to achieve carbon neutrality by 2045 for its own operations.
But the target does not take into account the indirect emissions produced by the hydrocarbons exported and burned by its customers, which account for the vast majority of its carbon footprint.
Related Articles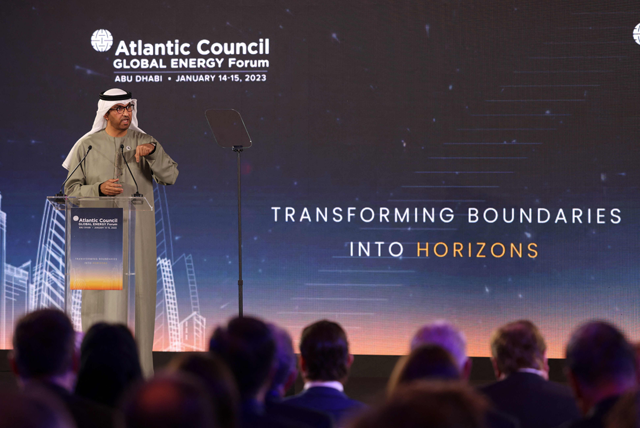 Jan 14,2023
ABU DHABI — The president of this year's COP28 climate talks, who heads a major oil company, on Saturday urged a focus on lower emissions to
Nov 18,2023
AL DHAFRA — The United Arab Emirates inaugurated recently one of the world's biggest solar plants, two weeks before the oil-rich Gulf state
Oct 31,2023
ABU DHABI — Upcoming UN climate talks in Dubai will be open to the private sector on an unprecedented scale, the conference's chief said on