You are here
Tunisia protests hit energy output by two foreign firms — radio
By Reuters - May 08,2017 - Last updated at May 08,2017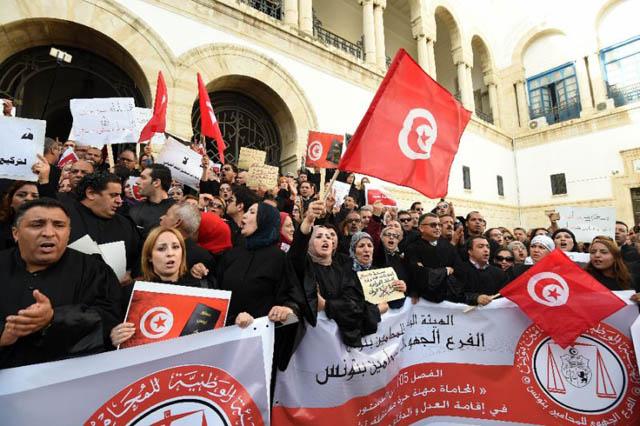 Tunisian lawyers shout anti-government slogans during a demonstration against a draft 2017 budget that was due to impose a public sector pay freeze on December 6, 2016, outside Tunis' law court (AFP file photo)
TUNIS — Protests over jobs and development in southern and central Tunisia have halted production or shut fields of two foreign energy companies, local radio and companies said on Monday, in a new challenge to Prime Minister Youssef Chahed.
Tunisia is only a small oil and gas producer compared to its OPEC neighbours Libya and Algeria, but protesters targeting energy output have erupted at a sensitive time as Chahed's government tries to enact austerity reforms.
State-run Tataouine radio and Mosaique FM radio said sit-ins halted production at energy company Perenco's Baguel and Tarfa fields, which are joint ventures for gas and condensate output, according to the Perenco company website.
A Perenco spokesman declined to comment.
A spokesman for Canada-based Serinus Energy said by e-mail that its Chouech Essaida field in southern Tunisia had been shut-in since February 28 due to labour and social unrest.
Protests have centred in southern Tataouine province where Italy's ENI and Austrian firm OMV have mainly gas operations, but have also started to emerge in central Kebili region.
Since its 2011 uprising brought democracy to Tunisia, successive governments have struggled with social unrest in the south and central provinces where unemployed youth feel they have been left out of the economic benefits of the revolution.
In Tatouine region, a group of demonstrators has camped out for several weeks in the Sahara desert and threatened to blockade roads used by oil and gas companies unless they see more jobs and a share in the region's energy riches.
OMV said last week it had demobilised around 700 non-essential staff and contractors from its southern Tunisia operations as a precaution. But it said production had not been affected.
ENI did not give details on Monday about any impact on its operations.
Tunisia's Energy Minister Hela Chikhrouhou told a conference on Tuesday that total oil production fell to 44,000 barrels per day (bpd) from 100,000 bpd in 2010 because of protests and low investment due to a lack of energy legislation.
Oil revenues fell from 3 billion Tunisian dinars ($1.24 billion) in 2010 to 1 billion Tunisian dinars ($413.96 million) in 2016, the minister said.
In the past, Tunisian protesters targeted the state-run phosphate business, where production falls since 2011 caused about $2 billion in losses. Output in phosphate — a key source of foreign income — has risen this year after agreements were reached with protesters.
The revival of the state-run phosphate production will help the North African country's economic growth, which also suffered from a decline in revenues from the tourism sector after major militant attacks in 2015.
Related Articles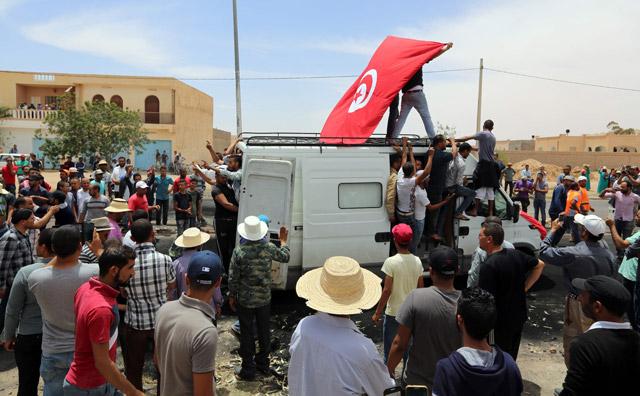 May 24,2017
BIR LAHMER, Tunisia — Thousands attended the funeral Tuesday of a protester killed during clashes in southern Tunisia as officials warned te
Aug 21,2016
TUNIS — Tunisian Prime Minister-designate Youssef Chahed named his new government on Saturday, appointing a former investment official as fi
May 12,2015
Little stirs at mid-morning in the Tunisian town of Metlaoui; few shops are open and the local phosphate mine lies idle, blockaded by unemployed young men demanding the government fulfill the economic promises of their country's revolution.
Newsletter
Get top stories and blog posts emailed to you each day.