You are here
Stocks up as traders weigh inflation, China talks and debt
By AFP - May 13,2023 - Last updated at May 13,2023
LONDON — US and European stock markets rose on Friday as traders weighed a range of issues including US debt-ceiling hopes, talks between Washington and Beijing and more signs of a slowing economy.
Investors hoping the Federal Reserve (Fed) will finally take a breather from its long-running campaign of interest rate hikes have been left feeling a little more confident this week after data showed US inflation on both a consumer and wholesale level continued to ease in April.
Their hopes were given a further boost Thursday by news that jobless claims last week hit their highest since October 2021, suggesting the labour market was showing some slack.
The Fed has long said it needed to see a softening in employment as well as a drop in inflation before it could consider ending its rate hike drive and look at a potential cut in borrowing costs.
"US economic data... continued the theme of tentative signs of a softening labour market and room for optimism about the inflation outlook," said National Australia Bank's Taylor Nugent.
Major European markets were up in afternoon trading, and Wall Street climbed at the open.
European luxury stocks were given a boost after bumper results from Cartier owner Richemont, which said sales for the financial year jumped 19 per cent to a forecast-beating 19.9 billion euros ($21.7 billion).
The group said it had been boosted by US and Middle Eastern tourists returning to Europe, and sounded a positive note on future growth from China's reopening.
London's FTSE 100 index rose as official data showed the UK economy had eked out growth over the first quarter, although output contracted in March as the country continues to be hit by sky-high inflation and strikes over pay.
"The UK economy squeezed out a tiny amount of growth in the first quarter but it didn't end it in a promising way," said Craig Erlam, senior market analyst at OANDA trading platform.
"While that may have been driven in part by strike action, the fact that the economy is basically flatlining means it won't take much to tip it into contraction or even recession."
US-China meeting
Focus across the Atlantic was also on some positive news out of Washington that US National Security Advisor Jake Sullivan and top Chinese diplomat Wang Yi met in Vienna this week, as the superpowers seek to temper tensions over a number of issues, particularly Taiwan.
The eight hours of talks over Wednesday and Thursday also covered Russia's invasion of Ukraine and capped an unofficial pause in high-level contact since the United States shot down a Chinese surveillance balloon earlier in the year.
Both sides described the face-to-face as "candid, substantive and constructive".
US-listed Chinese firms performed well in New York Thursday, with tech firms also helped by a strong earnings report from ecommerce giant JD.com.
And the tech rally continued in Hong Kong, with JD.com up more than 7 per cent and rival Alibaba 2.4 per cent higher.
But the gains were unable to help the city's Hang Seng Index maintain early gains, with losses also in Shanghai, Seoul, Singapore, Manila, Bangkok, Jakarta and Taipei.
Eyes are also on Washington, where much-anticipated debt-ceiling talks between President Joe Biden and Republican leaders were postponed until next week, with sources saying staff-level discussions were progressing.
While Democrats and Republicans blamed each other for the impasse on hiking the US borrowing limit, there is a hope a deal can be hammered out that will allow the country to pay its bills.
Analysts said, however, that more concrete moves are needed to reassure investors after a week where shares have oscillated.
"It is good to know that talks are happening, but in this matter, talk is cheap," said Patrick O'Hare, analyst at Briefing.com.
"It is action to raise the debt ceiling that is required, and until that action happens, risk tolerance will be reined in."
Related Articles
Jun 18,2018
Google will invest $550 million in Chinese e-commerce powerhouse JD.com, part of the US Internet giant's efforts to expand its presence in f
Sep 29,2021
LONDON — US and European stock markets rebounded on Wednesday, a day after a selloff over a slew of concerns including high energy prices, r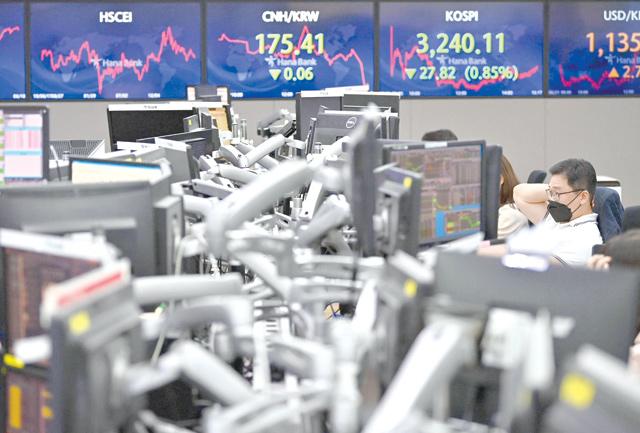 Jun 23,2021
LONDON — US stocks mostly pushed higher on Wednesday as interest rate hike fears faded, with the tech-heavy Nasdaq hitting a new-intra day r