You are here
RJ holds ordinary Annual General Meeting, 2022 financial statement endorsed
By JT - Apr 11,2023 - Last updated at Apr 11,2023
AMMAN — Royal Jordanian (RJ) held its ordinary Annual General Meeting (AGM) virtually on Tuesday. The meeting was headed by RJ Board of Directors Chairman Said Darwazeh, board members, RJ Vice Chairman/CEO Samer Majali, Companies' General Controller Deputy, representatives of the Government Investments Management Company, RJ accounts auditor Ernst and Young and some shareholders and RJ employees.
The AGM discussed the board's report on the financial results of 2022 and the business plan for 2023, as well as the auditors' report, the budget, profits and losses. The General Assembly members agreed to all the articles under discussion, according to an official statement sent to The Jordan Times.
Addressing the shareholders, Darwazeh said: "RJ, as the national carrier of Jordan, has a distinct position in the country." He expressed appreciation for the Royal support that RJ receives as well as for the support that the government has shown in 2022.
He added that RJ's performance in 2022 was satisfactory at all operational levels, despite the great challenges that the company faced. There are several factors that led to the end of the past year with negative results, in spite of the significant improvement in the company's operational business.
These include the repercussions of the pandemic that lasted until the end of Q1 of 2022, and the rise in fuel prices in global markets due to the war between Ukraine and Russia, which constitutes the main factor of the loss. RJ had to pay the fuel prices difference of JD98 million because the average price given to the company increased by 69 per cent, particularly in Jordan, compared to prices of the outstations. The fuel made up 50 per cent of RJ's operating cost.
Darwazeh explained that to compensate part of the pandemic losses, which constituted 67 per cent of the total accumulated losses, the government supported Royal Jordanian by paying an amount of JD70 million to facilitate the increase in capital.
Samer Majali said: "In 2022, Royal Jordanian endeavored to achieve operational and financial growth, and to improve various performance indicators, including an increase in revenues and the seat factor, and reducing the overall operational expenses except for fuel prices, without touching on the quality of services provided to passengers."
The results showed an increase in the company's revenues from JD357 million in 2021 to JD612.9 million in 2022, a 72 per cent growth. RJ fleet transported 3 million passengers last year compared to 1.6 million in 2021, 92 per cent increase, and the seat load factor rose to 77 per cent last year, marking an increase of 9 per cent.
Majali said that RJ is currently following a strategic plan, as part of comprehensive national efforts to increase tourist arrivals in the Kingdom. It started carrying out a growth plan and a comprehensive review of the network it serves, providing more flexibility and connectivity in the network segments, and increasing the frequency of flights to which the company operates.
Related Articles
Oct 31,2022
AMMAN — The Royal Jordanian (RJ) Board of Directors approved financial results for the third quarter and the first nine months of this year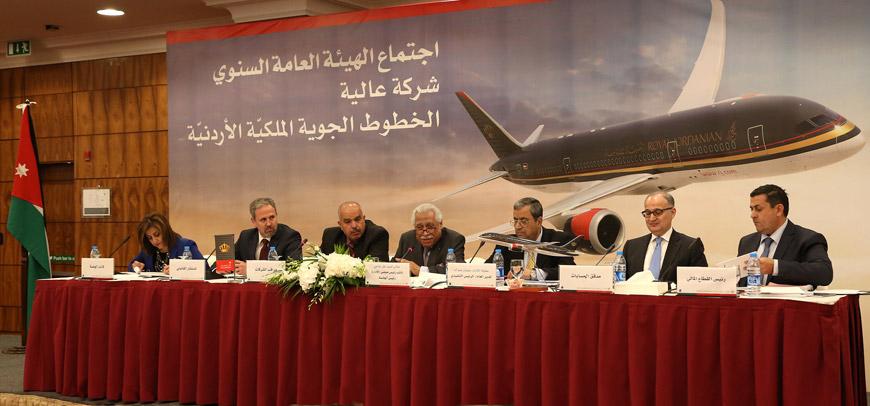 May 02,2017
AMMAN — The Royal Jordanian (RJ) on Saturday discussed the board's report on the 2016 financial situation and the business plan for 2017, st
Apr 26,2018
AMMAN — Royal Jordanian's (RJ) financial figures for 2017 showed that the national carrier has achieved positive results in the second half