You are here
Police disperse Algiers demo against delayed retirement
By AFP - Nov 27,2016 - Last updated at Nov 27,2016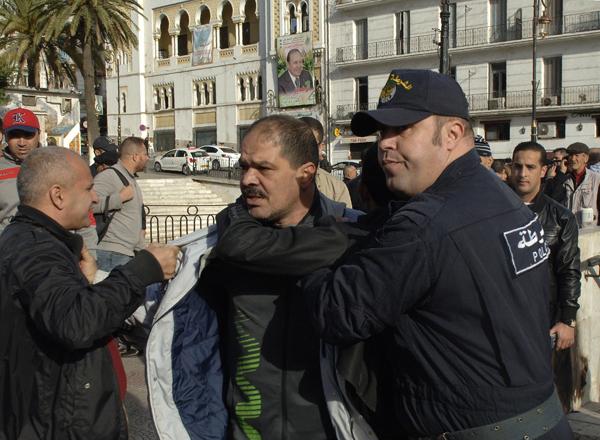 An Algerian policeman detains a trade unionists as they gather outside the People's National Assembly building in the capital Algiers on Sunday to protest the pension reform that is set to be debated by deputies (AFP photo)
ALGIERS — Algerian police on Sunday broke up a protest in the capital against a reform to end early retirement that is to be debated in parliament, an AFP correspondent said
A drop in oil revenues prompted the draft law to end both early retirement and retirement after 32 years of contributions to a pension fund, regardless of age.
Retirement age for all Algerians will be 60, under the reform due to come into force in January.
Protests have been banned in public places in Algeria since 2001.
Police arrested several demonstrators and tore up banners held up by trade unionists chanting the national anthem, the correspondent said.
"I was roughed up by police and wounded" above the eye, school director Abdelmalek Zegada said.
Protesters said that many others had been held up at security checkpoints outside the capital and prevented from joining the gathering.
"Police beat up teachers, doctors and workers," said Um Abdelkader, a teacher. "We're all shocked."
Opposition lawmaker Nadia Chouitem said she was sad to see "so much violence".
Fellow parliamentarian Smain Kouadria accused the state of sliding into the behaviour of a "totalitarian state" in the face of "legitimate" demands.
Algeria's parliament is expected to approve the draft law as the legislature is largely dominated by parties who support President Abdelaziz Bouteflika.
Related Articles
Aug 10,2020
ALGIERS — Algerian journalist Khaled Drareni received a three-year prison term on Monday in a trial rights groups have called a test of pres
Mar 08,2020
ALGIERS — Algerian police arrested around 10 demonstrators at an anti-government protest in Algiers on Saturday, an AFP journalist said.Near
Dec 11,2019
ALGIERS — Thousands of Algerians demonstrated for a boycott on Wednesday on the eve of a widely unpopular presidential election.Police in th