You are here
Morocco planning agency scales down growth forecast
Country's economy is projected to grow by 3.3% in 2023
By AFP - Jan 15,2023 - Last updated at Jan 15,2023
A worker harvests roses in a field in Morocco's central Tinghir Province (AFP file photo)
RABAT — Morocco's economy is projected to grow by 3.3 per cent in 2023, a government agency said on Thursday in a scaled down forecast for the country battling historic drought.
Agriculture is a key sector in the kingdom's economy, one of Africa's most dynamic.
"Assuming recovery of agricultural activities, the national economy should show a 3.3 per cent increase in 2023," said Ayache Khellaf, secretary general of the government's High Commission for Planning (HCP).
The HCP in July had projected a 3.7 per cent increase in Gross Domestic Product this year after just 1.3 per cent in 2022.
The coronavirus pandemic and the war in Ukraine sent inflation spiralling to 8 per cent last year with price hikes on fuel and food.
Morocco had returned "to 2014 levels of poverty and vulnerability" last year, the HCP said previously.
In early December protesters turned out in Rabat to denounce the government and high cost of living but the country's history making semi-final run at the football World Cup gave citizens some temporary relief from economic pain.
The 2023 annual state budget, presented in October by the government of liberal Prime Minister Aziz Akhannouch, factored in a 4 per cent GDP growth.
"Uncertainties linked primarily to the progress of the war in Ukraine, interest rates and epidemic and climatic risks" will decide how much the economy actually grows in 2023, Khellaf said at a press conference in Rabat.
The HCP noted in its economic forecast a "probable" risk of a return to drought, despite "relatively abundant rainfall" in December and said key drivers of growth are "in decline".
Last year, the North African country saw its worst drought in four decades.
"The shocks suffered over the past three years by the Moroccan economy, despite its relative resilience, have caused lasting damage," Khellaf said.
Morocco is also hoping to convert its raised profile from the World Cup into economic gains, especially for tourism. The sector is one of the country's top employers.
Related Articles
Feb 04,2016
RABAT — Abnormally dry weather across North Africa is threatening to become another financial headache for Morocco and neighbouring Tunisia
Oct 12,2022
AMMAN — Jordan's economy is expected to grow by 2.4 per cent in 2022, compared with 2.2 per cent in 2021, according to an International Mone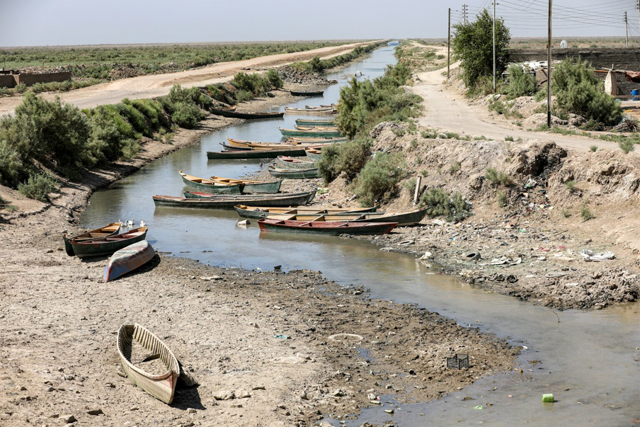 Nov 26,2023
BAGHDAD — Sixty per cent of farmers surveyed in four provinces of drought-hit Iraq reported having to reduce cultivated areas or water used,