You are here
Germany's electric car sales plummet in September
By AFP - Oct 05,2023 - Last updated at Oct 05,2023
FRANKFURT — Sales of electric vehicles plummeted in Germany in September as government subsidies were ended, official data showed on Thursday, casting a shadow on the wider car market in Europe's biggest economy.
A total of 224,502 new cars hit the road in Germany last month, a 0.1 per cent dip on the previous year, according to the KBA federal transport authority.
It was the first drop in car registrations since January, after easing supply chains and a run on electric cars ahead of the phase-out of financial incentives boosted sales in recent months.
The September setback was driven by a 28.6 per cent drop in sales of battery-powered electric vehicles after an environmental subsidy for commercial buyers ended.
Just under 32,000 battery electric cars were registered in September, compared with 87,000 in August.
Analysts at EY said the month-on-month drop of around 63 per cent was the "sharpest decline in new electric car registrations in almost seven years".
Germany's new car market was still on track to show growth in 2023, EY analyst Constantin M. Gall said, but the lack of momentum in the electric segment would likely be a drag in the months ahead
"The electric market continues to rely heavily on state support and can't stand on its own two feet," Gall said.
Despite an increase in sales of diesel and petrol cars in September, Germany's new car registrations remained 8 per cent below the pre-pandemic level of September 2019.
The VDIK car importers' federation said the auto sector was still benefitting from an order backlog related to pandemic supply chain disruptions, but the outlook was darkening.
"We are increasingly concerned about the persistently low order intake," VDIK president Reinhard Zirpel said, adding that the electric slowdown would further hinder the recovery.
Related Articles
Feb 06,2022
FRANKFURT — Sales of German cars rose year-on-year in January, official figures published on Thursday showed, after the flagship industry wa
Apr 08,2021
FRANKFURT — New car sales in Germany posted their worst first-quarter performance since national reunification in 1990 owing to the coronavi
Jul 30,2017
FRANKFURT AM MAIN — Germany hosts a debate on the future of diesel engines next week as pressure grows on the government and automakers to c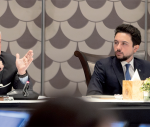 Newsletter
Get top stories and blog posts emailed to you each day.