You are here
Germany says energy supply safe despite nuclear exit
By AFP - Apr 13,2023 - Last updated at Apr 13,2023
BERLIN — Switching off Germany's remaining nuclear plants will not put the country's power supply at risk despite the energy crisis caused by the war in Ukraine, ministers said on Thursday.
Germany's "security of supply is and will be assured" despite the nuclear exit, Economy Minister Robert Habeck said in a statement.
Germany's last three reactors will go offline on Saturday, the culmination of a long-planned departure from atomic power.
But calls have grown for Germany to extend the life of its nuclear plants since Moscow's invasion of Ukraine put an end to cheap Russian gas imports and threw Europe's largest economy into an unprecedented energy crisis.
The debate has riven the coalition led by Social Democrat Chancellor Olaf Scholz, with the support of the pro-business FDP and the fiercely anti-nuclear Greens.
The phase-out has been "a dramatic mistake, with painful economic and ecological consequences", the FDP's deputy leader Wolfgang Kubicki told the Funke media group.
Opposition figures have also called for an extension.
"We want the three current nuclear power plants to continue to operate and three more to be made available in reserve" to overcome the current energy crisis, Bavaria's conservative leader Markus Soeder told website Focus Online.
"The nuclear exit makes our country safer," said Environment Minister Steffi Lemke.
"The risks of nuclear power are ultimately unmanageable."
The end of nuclear hailed a "new era of energy production", Lemke said, with the government betting on the speedy expansion of renewable energy to cover its needs.
The increase in wind and solar power would provide "additional security", Habeck said, with the minister aiming to source 80 per cent of Germany's energy from green sources by 2030.
Related Articles
Apr 15,2023
BERLIN — Germany will switch off its last three nuclear reactors on Saturday, exiting atomic power even as it seeks to wean itself off fossi
Apr 15,2023
BERLIN — Germany will switch off its last three nuclear reactors on Saturday, exiting atomic power even as it seeks to wean itself off fossi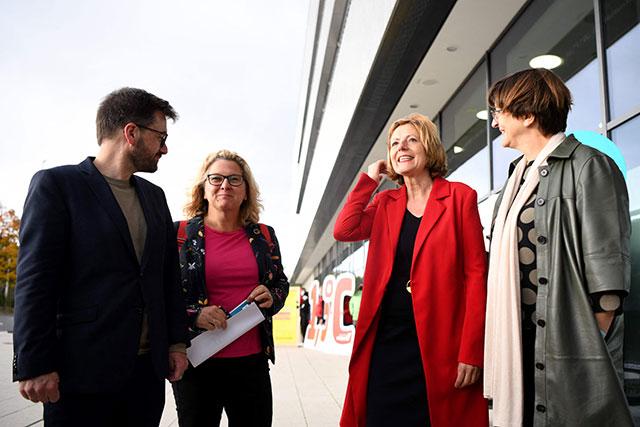 Oct 22,2021

FRANKFURT — The three parties working to form Germany's next government on Thursday unveiled an accelerated timeline for their coalition ta