You are here
French envoy criticises Lebanon over 'slow' reforms needed for IMF loan
IMF last April announced agreement for $3b in aid
By AFP - Feb 04,2023 - Last updated at Feb 04,2023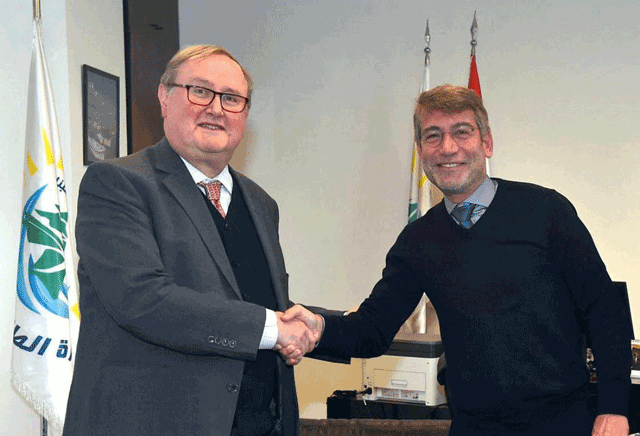 A handout photo provided by the Lebanese photo agency Dalati and Nohra shows Lebanon's caretaker Energy Minister Walid Fayad meeting with French Envoy in charge of coordinating the international aid to Lebanon Pierre Duquesne in the capital Beirut, on Friday (AFP photo)
BEIRUT — The French diplomat charged with coordinating international support for Lebanon, so it can receive International Monetary Fund (IMF) aid, on Friday criticised the slow pace of reforms in the crisis-hit country.
The IMF last April announced an agreement in principle with Beirut for $3 billion in aid spread over four years, but conditional on implementing crucial reforms.
"It's really slow," Pierre Duquesne told journalists in the Lebanese capital, at the same time highlighting "a few minor adjustments that go in the right direction".
Among the reforms demanded by the IMF is parliament's approval of the 2022 budget, which Duquesne said came "late".
Lebanon has been effectively leaderless for months, without a president and ruled by a caretaker Cabinet.
The IMF is also demanding reform of banking secrecy laws and a restructuring of the banking sector as a whole, as well as a law on capital controls.
"There is no other solution than the IMF to provide capital, credibility and confidence... and to reduce inequality," Duquesne said.
Paris will host an international meeting on Monday on how to end months of political deadlock in Lebanon, with representatives from France, the United States, Saudi Arabia, Qatar and Egypt.
Duquesne is in Beirut to provide French support for the recovery of Lebanon's energy sector, a mission that has already taken him to Egypt and Jordan.
"The two countries have expressed extreme goodwill and said they are technically ready to supply gas and electricity to Lebanon," which is almost completely without power, the diplomat said.
However, energy supplies would have to pass through Syria, which is subject to stringent US sanctions.
Duquesne said he would visit Washington over the next 10 days to discuss "exemptions" for Egyptian gas and Jordanian electricity supplied to Lebanon via Syria.
There, he will also meet officials from the World Bank, which is expected to finance energy deliveries.
Lebanon's political impasse has hampered efforts to resolve its worst-ever financial crisis.
The Lebanese pound has lost more than 95 per cent of its market value to the dollar since 2019, and more than 80 per cent of the population lives in poverty, according to the United Nations.
Last September, the IMF also criticised the Lebanese authorities, saying progress in implementing reforms remained "very slow".
Related Articles
Sep 27,2022
BEIRUT — Lebanon's parliament on Monday approved the 2022 budget, one of the conditions set by the International Monetary Fund (IMF) to acti
Feb 01,2023
AMMAN — French envoy Pierre Duquesne, in charge of coordinating international support to Lebanon, visited Jordan on Wednesday as part of a r
Jul 12,2020
BEIRUT — Talks between crisis-hit Lebanon and the International Monetary Fund are deadlocked, and leaders are reluctant to enact refor