You are here
Eurozone firms fret over stricter climate standards — Survey
By AFP - Sep 27,2023 - Last updated at Sep 27,2023
FRANKFURT — Eurozone firms are more concerned about the potential impact of stricter climate standards on financing than more direct risks stemming from climate change, a European Central Bank (ECB) survey showed Wednesday.
The European Union — which includes the 20 countries that use the euro — is aiming to be climate-neutral by 2050, and is pushing a series of new rules in various areas to drive the green transition.
About 60 per cent of companies questioned for the survey indicated they considered transition risks related to tougher climate standards, like carbon pricing, as "very important", with large firms more concerned than smaller ones.
When it came to natural hazards, such as wildfires or floods, 39 per cent of respondents were very concerned while 48 per cent had the same level of concern in relation to environmental degradation.
Concerns about natural disasters were more pronounced in coastal areas and regions that have previously experienced more fires.
The survey showed companies were worried about obstacles in securing access to financing for investments to deal with climate change-related risks.
More than half pointed to interest rates or financing costs being too high, as well as insufficient public subsidies. The ECB has hiked rates aggressively since last year to tame sky-high inflation.
However, firms may consider the costs to be high as they had not looked enough at "the benefits of addressing climate change risks", the survey said.
Most companies believe they have invested enough or plan to invest enough to address climate change.
The survey, looking at enterprises' access to finance, was conducted in May and June, and for the first time included specific questions about the impact of climate change on euro area firms.
More than 5,700 firms were quizzed in a dozen eurozone countries, including France and Germany, over 90 per cent of which were small- and medium-sized enterprises.
Related Articles
Jan 22,2015
The European Central Bank (ECB) took the ultimate policy leap on Thursday, launching a government bond-buying programme which will pump hundreds of billions in new money into a sagging eurozone economy.
Mar 05,2015
The European Central Bank (ECB) will launch into quantitative easing (QE) next week having increased its economic growth forecasts for this year and next.
May 27,2020
FRANKFURT AM MAIN — European Central Bank (ECB) chief Christine Lagarde said on Wednesday she was "not overly concerned" that the coronaviru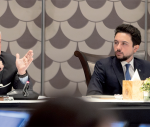 Newsletter
Get top stories and blog posts emailed to you each day.