You are here
ECB hikes key rate to record high, defying calls for pause
Hike is highest in level since introduction of euro in 1999
By AFP - Sep 15,2023 - Last updated at Sep 15,2023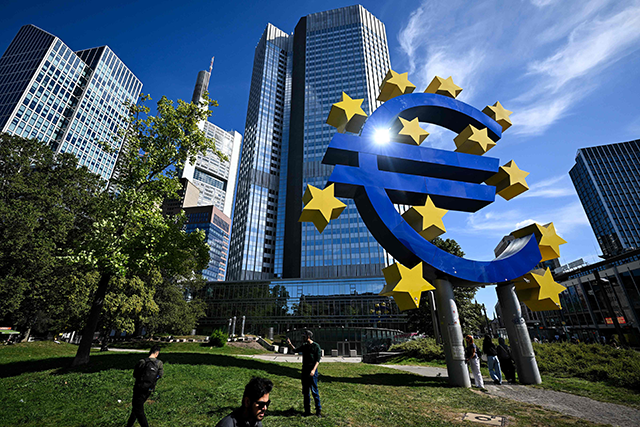 People walk past the Euro currency sign in front of the former European Central Bank building on Thursday (AFP photo)
FRANKFURT — The European Central Bank hiked a key interest rate to a record high Thursday as it battles soaring inflation, defying calls for a pause to take pressure off the faltering eurozone economy.
The central bank said rates had now reached levels that would help bring inflation back to target, and some analysts said it signalled the current hiking cycle was at an end.
Policymakers raised rates by another quarter point, taking the closely watched deposit rate to 4 per cent — its highest level since the introduction of the euro in 1999.
It marked the 10th straight increase since the central bank launched the most aggressive hiking cycle in its history in July last year after prices surged following Russia's invasion of Ukraine.
Ahead of the meeting, analysts had been sharply divided over whether the ECB would lift rates again or finally take a pause due to mounting signs of the economic strain on the 20 countries that use the euro.
But ultimately, continued inflation pressures persuaded the central bank's governing council it needed to hike again.
"Inflation continues to decline but is still expected to remain too high for too long," the ECB said in a statement, announcing its rate decision.
"The governing council is determined to ensure that inflation returns to its two percent medium-term target in a timely manner."
The central also added that "the key ECB interest rates have reached levels that, maintained for a sufficiently long duration, will make a substantial contribution to the timely return of inflation to the target".
ING economist Carsten Brzeski said he believed the central bank had made its final hike of the current campaign.
"The ECB's communication is clear: today was the last hike in the current cycle," he said.
Highlighting the continued difficulties in bringing consumer prices under control, the ECB raised its forecast for inflation this year and next.
They lowered it slightly for 2025 to 2.1 per cent, close to the ECB target.
But it also slashed its forecasts for eurozone growth over the next three years, pointing to the impact of "tightening on domestic demand and the weakening international trade environment".
However, the tighter financing conditions brought about by rate hikes were also "dampening demand, which is an important factor in bringing inflation back to target".
Worsening outlook
Other recent signs have pointed to a worsening outlook in the eurozone.
Recent data showed second-quarter growth reached just 0.1 per cent, lower than previously estimated, and the EU on Monday slashed its 2023 and 2024 GDP forecasts for the single currency area — pointing in particular to weakness in Germany.
Europe's top economy is struggling to get back on its feet after sliding into recession around the turn of the year, hit by an industrial slowdown, high energy costs, and slowing exports to key partners such as China.
The weak data had fuelled calls for the ECB to pause its hiking cycle for fear it could deepen a downturn.
But despite the rapid increase in borrowing costs since last year, inflation has proved remarkably stubborn, coming in unchanged at 5.3 per cent in August.
Price rises have slowed since peaks seen last year, in particular due to falling energy costs, but officials are now worried that other factors are keeping the pressure up — particularly wage increases in a tight labour market.
The Federal Reserve — which did pause its rate hikes in June, but then lifted borrowing costs again in July — and the Bank of England are due to hold their own meetings next week.
ECB officials had insisted their decision would depend on incoming data, and were cagey about what would happen in the run-up to the meeting.
This is a contrast to other recent meetings, where the decision had usually been well telegraphed in advance.
Newsletter
Get top stories and blog posts emailed to you each day.