You are here
Banks show keenness to support SMEs
By Petra - Aug 27,2015 - Last updated at Aug 27,2015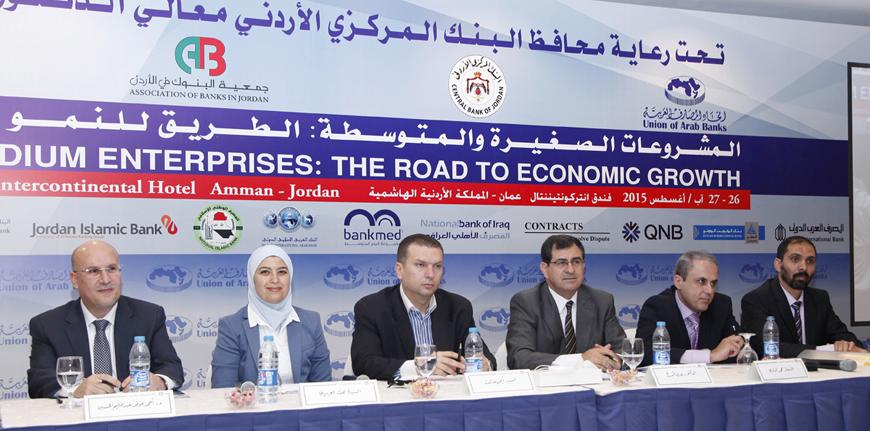 Bankers, industrialists speak on Thursday during a session on financing SMEs (Petra photo)
AMMAN — About 60 per cent of banks present in Jordan operate departments specialised in financing small- and medium-sized enterprises (SMEs), according to a study conducted by the Association of Banks in Jordan (ABJ).
ABJ Director General Adli Qandah mentioned in an address about the Jordanian experience in financing SMEs that 76 per cent of banks in the Kingdom have qualified personnel to serve their SME clients.
The study, he said, showed that around 95 per cent of Jordan's commercial banks offer ovedrafts, 38 per cent extend financing for working capital, 33 per cent provide revolving credit and letters of credits, 29 per cent give short-term loans and 24 per cent offer medium- and long-term loans.
As for Islamic banks' facilities to SMEs, the study noted that 75 per cent of Islamic banks offer profit sharing to buy and import goods and raw materials in addition to financing fixed assets and real estate.
The average interest rate for facilities granted to SMEs range between 10 and 12 per cent, the study indicated noting that 88 per cent of banks in Jordan consider their products to be suitable to meet SMEs' needs.
Some 60 per cent of banks turn down less than 10 per cent of SMEs loan requests, the study revealed, attributing the rejection to ambiguity of requests, lack of clarity of income resources, absence of financial statements, improper guarantees, low experience, high indebtedness and weak feasibility.
Facilities granted to SMEs accounted for around 13 per cent of the total facilities granted by 65 per cent of banks, while 58 per cent of banks expressed intention to increase financing targeting SMEs.
Maher Mahrouq, director general of the Jordan Chamber of Industry, said financing SMEs projects needs a solution, noting that the financing gap in the Kingdom is still wide, with the World Bank estimating the volume to reach around $2 billion a year.
Interest rates in the Kingdom are among the highest in the region, which is considered the main obstacle for financing SMEs, Mahrouq added, noting that Jordan ranks 185 among 189 countries in the World Bank's index for securing loans.
The industrialist highlighted the chamber's role in empowering SMEs projects, saying the chamber had established a special unit in cooperation with international institutions to enable SMEs get loans and fill the gap between supply and demand.
Related Articles
Dec 04,2023
AMMAN — Jordan's banking system is at the forefront in terms of added value, with 84 per cent of its operational processes generating
May 28,2016
AMMAN — A recent survey that focused on small and medium-scale enterprises (SMEs) in Jordan said banks should adopt appropriate finance mech
Apr 01,2020
AMMAN — The Central Bank of Jordan (CBJ) on Wednesday decided to launch a JD500 million soft financing programme for small- and medium-sized