You are here
Apple unveils Vision Pro, its $3,500 headset
New-generation Quest 3 to be available this year at starting price of $500
By AFP - Jun 06,2023 - Last updated at Jun 06,2023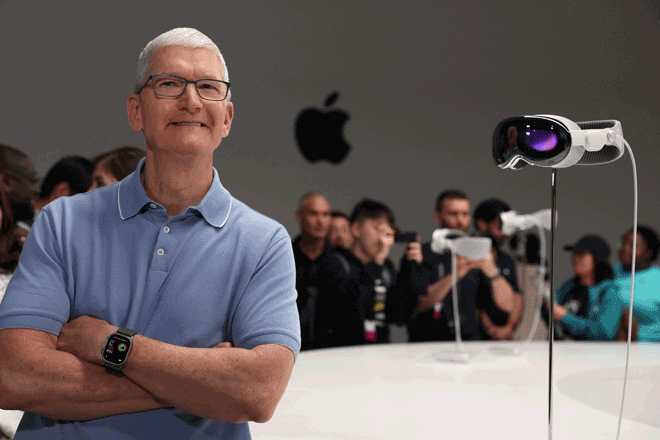 Apple CEO Tim Cook stands next to the new Apple Vision Pro headset is displayed during the Apple Worldwide Developers Conference on Monday in Cupertino, California (AFP photo)
CUPERTINO — Apple on Monday unveiled its first mixed reality headset, challenging Facebook-owner Meta in a market that has yet to tempt users beyond videogamers and tech geeks.
The release was the most significant product launch by the iPhone maker since it unveiled the Apple Watch in 2015.
The Vision Pro, which was generally well received on Monday, will cost a hefty $3,499 and be available early next year in the United States only, the company said.
"There are certain products that shift the way we look at technology and the role it plays in our lives," said Apple CEO Tim Cook as he unveiled the sleek VR device that resembled ski goggles.
"We believe Apple Vision Pro is a revolutionary product with the performance, immersion and capability that only Apple can deliver," he added.
The headgear, which Apple referred to as a spatial computer, was introduced at the close of an Apple event in Cupertino, California in which the company announced a long list of product updates.
The product has been in development at Apple for years, and will focus on gaming, streaming video and conferencing.
Company executives insisted that the Vision Pro offers an unchallenged experience, making the hard sell on tech that has yet to win the hearts of the greater public.
Unlike its rivals, the Vision Pro delivers mixed reality technology that "clearly situates the user in their environment", said Insider Intelligence principal analyst Yory Wurmser.
"Whereas Meta Quest and other devices are virtual reality-first, Vision Pro keeps the user in the present and emphasizes the mixed reality features — unless they choose otherwise," he added.
Vision Pro allows wearers to twist a watch-like "crown" to go from having interactive imagery augment one's surroundings to being fully immersed in a rich 3-D experience that feels like being in a video or on a sports playing field, a hands-on demonstration showed.
Apple went to great lengths to preserve its signature design minimalism, at least to the extent that it could, given the technology squeezed into the Vision Pro.
The device has a glass front, an alumium frame, five sensors, 12 cameras, a display for each eye, and a computer that is cooled with a fan.
Smaller than a scuba diving mask, Vision Pro will run mainly by being plugged into a power source in a clear effort to preserve a sleek design.
A cord-attached battery pack, which would slide into your pocket, would work for no more than two hours.
Vision Pro optics are tuned to each wearer's eyes, freeing them from eyeglasses during use and also providing optical identification to verify user identity, the demonstration showed.
'Blown away'
Tech companies have struggled to sell virtual reality headsets to a wider audience that is uncomfortable with wearing a mask.
In an effort to overcome that resistance, internal cameras on Apple's version will project the user's eyes on an external screen.
"As a non VR believer, I was actually blown away by how seamless the experience is," said tech analyst Carolina Milanesi of Creative Strategies.
While wearing Vision Pro one can see who is nearby, and even look them in the eyes and have a conversation.
Disney partnered with Apple for the launch and the Mickey Mouse company teased content from Marvel, Star Wars and live sports that would be available on the device and provide an immersive experience.
Apple said that over 100 video games would be available from the day of release.
Collision course
The release puts Apple on a collision course with Meta, which had taken a head start on doubling down on virtual worlds.
Just days before Apple's event, Meta ramped up its line of much cheaper Quest virtual reality headgear.
A new-generation Quest 3 will be available later this year at a starting price of $500.
Meta's experience with the so-called metaverse has been humbling despite it being a leader in the emergent sector and many questioned whether Apple would in the end jump in.
Less than two years after changing its name to Meta to reflect a metaverse priority, the Facebook giant has fired tens of thousands of staff and promised to get back to its social media basics.
Related Articles
Oct 31,2021
By Joshua Melvin and Julie JammotAgence France-PresseWASHINGTON/SAN FRANCISCO — Facebook's name change offers a convenient diversion as
Nov 09,2022
NEW YORK — Facebook owner Meta will lay off more than 11,000 of its staff in "the most difficult changes we've made in Meta's history", boss
Jun 23,2023
LOS ANGELES — French videogame titan Ubisoft is eyeing artificial intelligence and virtual reality as the next big things in gaming, its chi