You are here
Women's Health & Wellness Retreat brought to regional level
Nov 27,2022 - Last updated at Nov 27,2022
Thirteen leading experts in health, nutrition, fitness and dance delivered sessions at a women's health and wellness retreat held recently in Aqaba, Ayla.
The four-day event aimed at fostering the physical and mental health and wellbeing of women and was organised by Family Flavours and Nakahat 'Ailiyeh magazines and One with Nature Fitness Centre.
"We are so proud to have brought our seventh women's health and wellness retreat to the regional level with the participation of women from Lebanon, Palestine and Kuwait through the support of the Jordan Tourism Board," said Hind-Lara Mango, Publisher and Managing Director of Family Flavours and Nakahat 'Ailiyeh magazines.
The event, dubbed "Connect With Your Mind, Body and Soul", brought together some 100 women who were encouraged to prioritise their mental and physical needs at Hyatt Regency Aqaba Ayla.
"Health and wellness are an ongoing journey of making connections with nature, each other and with ourselves," said Ghada Mu'asher, retreat co-ograniser and Founder of One With Nature Centre.
Female community leaders, including Member of Parliament Tamam Riyati, attended sessions pertaining to financial wellness by SIGNATURE by Cairo Amman Bank, the Diamond Sponsor, and preventive nutrition by Juthour, organic food partner, at this retreat.
The event also provided a platform for local initiatives to be highlighted such as Himmeh w Lammeh (for a cleaner Jordan) and the Virtual Bazaar, a women's empowerment project in support of homebased women-led businesses.
Related Articles
Mar 08,2020
More than 100 women celebrated International Women's Day and Mother's Day at Let Your Mind, Body & Soul Bloom III retreat, organised by
May 12,2019
With a renewed understanding and commitment to a holistic and natural approach to health, more than 100 women have recently participated in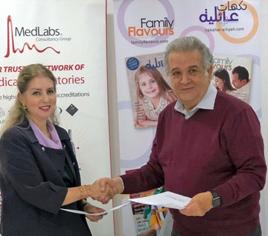 Jan 11,2020
MedLabs Consultancy Group (MedLabs Laboratories) renewed its nine-year partnership with Family Flavours and Nakahat 'Ailiyeh with a focus on