You are here
Four Seasons Hotel announces winners of HORECA Jordan 2022
Four Seasons Hotel Amman wins 3 gold medals, 3 silver medals & 3 hygiene awards at HORECA Jordan 2022
Oct 17,2022 - Last updated at Oct 17,2022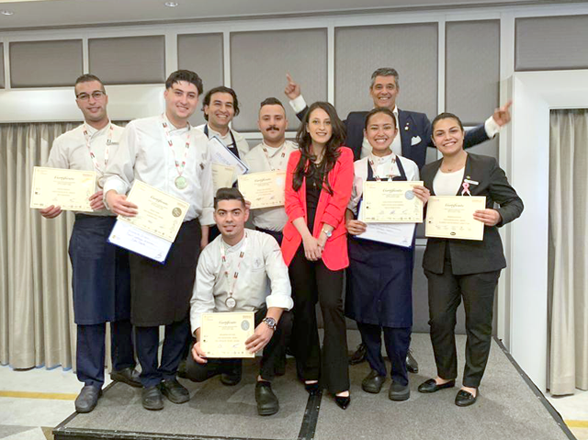 AMMAN — Four Seasons Hotel Amman announced that its talented chefs and servers played a prominent role at this year's Hotel, Restaurant and Catering Awards (HORECA) Jordan – the region's annual hospitality and food event that celebrates the best in hospitality and foodservice.
The Four Seasons team took home three gold medals, three silver medals and three hygiene awards at HORECA Jordan 2022, showcasing their skills and talents in a range of live competitions covering the hospitality, catering, and food industry sectors.
The gold medal winners include Rama Basheer, Team Leader, in the Art of Service Category; Ahmad Mishael, Demi Chef de Partie, who had the Best Macaroon, and Ahmad Zidan, Demi Chef de Partie, who took home a hygiene award in addition to his gold medal in the Seafood Category.
The silver medal winners include Mohammad Abu Riziq, Demi Chef de Partie, in the Croissant Category; Ahmad Abu Khashab, Cook 1, in the Pizza Category; Izaaz Alyaa Ramadhana, Chef de Partie, who received a hygiene award in addition to a silver medal in the Pasta Category; while Zakaria Al- Masri, Demi Chef de Partie, received a hygiene award in the Market Basket Category; and Mohammad Da'aabour, housekeeper, who received a bronze medal in the Bed Making Category.
Carlo Stragiotto, General Manager at Four Seasons Hotel Amman, congratulated winners, saying: "I am very proud of everyone who participated and received medals and awards at HORECA Jordan 2022".
The eighth edition of HORECA Jordan is the largest exhibition for the hospitality and food & beverages service industry in the region.
It took place from September 27 to 29 in Amman. The annual exhibition covers food & beverage services and hospitality sectors from Jordan and the region, including Palestine, Iraq and Egypt.
Newsletter
Get top stories and blog posts emailed to you each day.