You are here
Four Seasons Amman invites guests to celebrate Ramadan through various dining experiences
Mar 19,2023 - Last updated at Mar 19,2023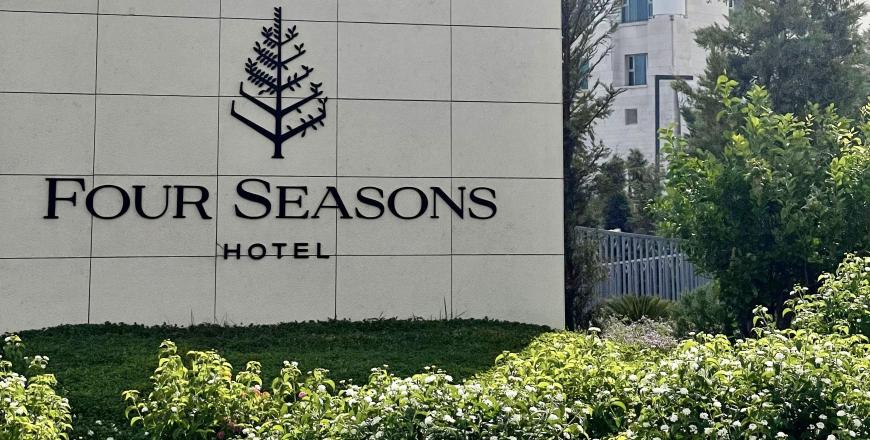 AMMAN — Four Seasons Hotel Amman invites guests to celebrate Ramadan through various dining experiences that embody the true spirit of this occasion with support from Platinum Sponsor Hongqi Jordan and Exclusive Telecommunications Sponsor Zain Jordan.
Iftar at the Grand Ballroom
Enjoy Iftar at the Grand Ballroom with entertainment and a comprehensive array of international live stations to bring guests together to break their fast.
Executive Chef Francesco Greco and Executive Pastry Chef Anas Al Qusairi have invested their combined years of gastronomic knowledge to ensure Ramadan meals are nothing short of spectacular.
The price is JD50 per person; JD25 for 6-11 year olds, and children 5 and under can enjoy complimentary dining. Price includes tax and service charge.
La Capitale Brasserie
Guests are invited to enjoy a menu of French classics in this traditional brasserie. After the first week of Ramadan, La Capitale will open for dinner from 7pm until 11pm with the regular a la carte menu.
Iftar in the room
For guests who prefer quieter evenings in the privacy of their rooms or suites, the in-room dining service will offer the regular menus in addition to an a la carte menu for Sohour starting from 7pm.
The Foyer Lounge
The Foyer lounge is open to guests daily from 11am until 1am, serving the regular a la carte menu. A Sohour menu will be available from 7pm until 12am, and an Arabesque Ramadan dessert display will be available daily from 7pm until 1am.
Olea Restaurant
Guests can enjoy breakfast every day from 6.30am until 11am offering menus of hot and cold dishes, international cuisine and gourmet treats – all made with top-quality local ingredients.
A Ramadan affair - private and corporate events

Our Grand Ballroom and Olea Restaurant are both perfect options for hosting your private or corporate Ramadan events with a special menu:
- A minimum of 200 guests for the Grand Ballroom at JD42 per person, all-inclusive of taxes.
- A minimum of 80 guests for Olea Restaurant at JD42 per person, all-inclusive of taxes.
Our team of catering specialists will help you create your ideal Iftar gathering.
For non-fasting guests
Our non-fasting guests can enjoy breakfast at Olea, all day dining at The Foyer Lounge, dinner at La Capitale or the regular in-room dining menu day or night.

Eid brunch
Celebrate the first day of Eid Al Fitr with a family buffet brunch at Olea Restaurant. Price is subject to applicable taxes.
1:30pm – 4:30pm
JD55 for adults
JD27.5 discount for children ages 6 to 11
Complimentary for children 5 and under
To reserve your memorable Ramadan or Eid Al Fitr experience, call the Hotel at +962-6-550-5555 or email us at: HYPERLINK "mailto:Re[email protected]" [email protected]
Newsletter
Get top stories and blog posts emailed to you each day.