You are here
Empowering families and communities in Jordan
May 27,2017 - Last updated at May 27,2017
The Arab Renaissance for Democracy and Development (ARDD) and Al Marji' Publications have recently signed a cooperation agreement, focusing on women's legal empowerment.
"We believe that it is possible to further achieve a vision of renaissance in the Arab world where values of dignity, equality, solidarity and pluralism will prevail," said Samar Muharab ARDD Chief Executive Officer.
She added that "Our partnership with Al Marji' Publications will help address issues faced by the communities with whom we work and to make their voices heard."This partnership, spanning over three years, encompasses coverage of human interest stories in both Family Flavoursand Nakahat 'Ailiyeh parenting magazines-produced by Al Marji' Publications.
Articles focus on women and youth overcoming their dire circumstances to become productive members of their communities.
Related Articles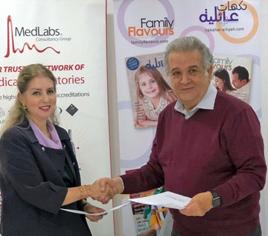 Jan 11,2020
MedLabs Consultancy Group (MedLabs Laboratories) renewed its nine-year partnership with Family Flavours and Nakahat 'Ailiyeh with a focus on
Nov 26,2018
For the 6th consecutive year, Societe Generale de Banque — Jordanie (SGBJ) promotes its retail services through Al Marji' Publications.
Nov 18,2017
Societe Generale de Banque — Jordanie (SGBJ) renewed its partnership agreement with Al Marji' Publications for the fifth consecutive year."W