You are here
Digitalization a primary driver of economic growth in Jordan- Huawei Middle East President
May 17,2022 - Last updated at May 17,2022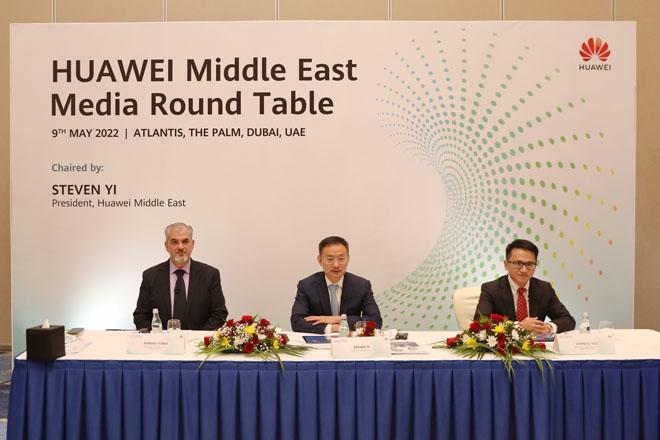 DUBAI - During an exclusive media roundtable held on the sidelines of the SAMENA Leaders' Summit 2022, the top telecom industry event hosted by Huawei for the 9th consecutive year, Steven Yi, President of Huawei Middle East, highlighted Huawei's commitment to supporting Jordan's government achieve its digital transformation vision with 5G networks and other advanced technologies as an enabler.
Yi stressed the importance of the telecom sector as an enabler for other industries' sustainable development and growth in light of the evolving 5G landscape and the immense opportunities for enterprises in the 5G era.
"Although the pandemic brought many challenges to countries around the world, it has accelerated digitalization rapidly. During the pandemic, online education, shopping, working, and medical treatment became common scenarios. Enterprises' cloud access also became the top choice and 85% of companies chose cloud services. All these changes show that ICT is the new engine of digital economic growth in the post-pandemic era and should be taken as a priority by all the governments, so that the economy can grow sustainably and play a more important role," said Yi.
"We are working with customers to build a win-win relationship with partners. In the era of accelerating 5G deployment and digital transformation, we will create and seize opportunities for common development and help society escape from the impact of the pandemic."
For example, Huawei cooperated with the Jordan government to upgrade the education system. Moreover, Jordan's education network adopted 5G, ICT technologies and related smart devices, which played an important role in distance education during the pandemic.
Yi also discussed Huawei's role in local ICT talent development. "In the digital economy era, digital talent will be the key to digital transformation and economic growth. By applying technologies such as connectivity and cloud computing to education, Huawei is committed to cultivating innovative talents for higher and vocational colleges, accelerating innovation in teaching, research, and narrowing the digital divide, and promoting balanced education development in basic education," said Yi.
With digital technologies advancing rapidly, securing networks and cybersecurity continues to be Huawei's top priority. "We have a sound cybersecurity and privacy protection assurance structure which has a leading global records." Yi said.
"Our cybersecurity practices have won the continuous trust of our partners including those in the Middle East. We believe that cybersecurity is a shared responsibility and it's crucial to have an open discussion around cybersecurity governance architecture in line of international standards like 3GPP, GSMA NESAS and others.
Last year, we unveiled the largest cybersecurity and transparency center in the world in Dongguan China, and we hope that we will be able to invite you to visit there after the pandemic to experience this open collaboration platform targeted at addressing cybersecurity challenges and come up with joint innovations for improving the future of cybersecurity." Yi continued.
Additionally, during the Summit, leading regional operators and Huawei launched IntelligentRAN, an advanced telecom network solution, which comes in line with Huawei's objective to empower the telecommunication sector with more advanced innovations and value for its own business and other sectors and industries businesses by means of injecting intelligent to wireless networks and achieve autonomous driving network in the wireless domain in the future. "The intelligentRAN architecture is constructed to develop a mobile network with intelligent service operation, intelligent network optimization, and simplified O&M. This feature helps customers and partners quickly provision services and guarantee user experience, maximize user experience, reduce energy consumption, and simplify O&M in multi-frequency and multi-mode scenarios."
In 2021, Huawei invested over 22% of annual revenue in R&D targeted at supporting the long-term sustainable development of the ICT industry. Yi emphasized the company will continue to invest significantly in intelligent solutions and services such as ICT infrastructure and cloud services.
The SAMENA Leaders' Summit 2022 is a top telecom industry event hosted by Huawei for the 9th consecutive year and attended by industry leaders, experts and decision makers from telecom companies, regulatory bodies, industry organizations and related stakeholders from SAMENA Region (South Asia, Middle East North Africa).
Newsletter
Get top stories and blog posts emailed to you each day.