You are here
Can Arabs prevent Israeli annexation decision?
May 12,2020 - Last updated at May 12,2020
Al Ghad's Fahed Khitan said that it is scheduled that the Knesset on Wednesday will vote on Netanyahu-Gantz rotating premiership programme, in which Netanyahu will serve as a prime minister, giving the prime minister's post to Gantz after 18 months.
The annexation of portions of West Bank lands and the Jordan Valley is an important part of the government's programme, the writer said.
In the same day, US Secretary of State Mike Pompeo will visit occupied Jerusalem to attend this "dark historical moment", he said, highlighting that there is a widespread belief among observers that Pompeo would declare his country's support to start with the annexation measures, so that, the visit will be the launching ceremony of the so-called "deal of the century", announced in Washington months ago.
According to Palestinian sources, the deal would take in up to 30 per cent of the occupied West Bank and 720,000 dunums of the Jordan Valley.
Commenting on the repercussions of such a step, Khitan said that Israel has prepared very well to this scenario, but the collapse of the Palestinian Authority will become a very strong possibility, he said.
The Palestinian Authority does not have the ability to spark a new intifada, as its internal differences alongside the great rift between Fatah and Hamas that leave no room for field action.
A country by the size of Jordan and its capabilities cannot go far in this issue, especially in light of Arabs giving up on the Palestinian cause.
Everyone at this stage is engaged in addressing repercussions of the coronavirus. There are Arab countries competing to build close relations with Israel.
Egypt is exhausted by its economic crisis and is involved in a long war of attrition with terrorist groups funded by countries in the region.
Israel is not blind, it knows the capabilities of the Arab world at this stage, and knows in advance that it is able to implement its agenda with minimal losses. It has committed greater crimes in the past and did not pay the price, so what has changed to have fear about what might happen after the annexation!
Related Articles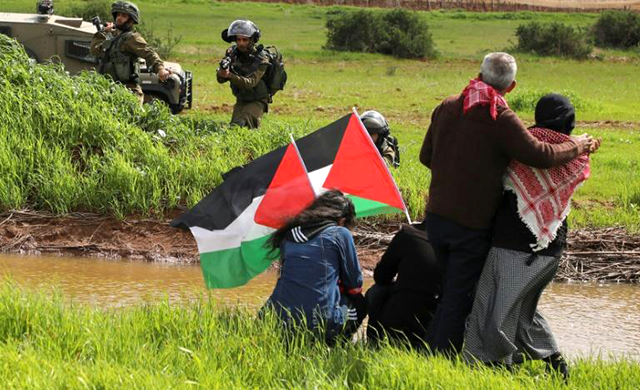 Apr 29,2020
OCCUPIED JERUSALEM — Arab foreign ministers are to hold talks on Thursday on Israel's US-backed plans to annex key parts of the occupied Wes
May 13,2020
OCCUPIED JERUSALEM — US Secretary of State Mike Pompeo visited Israel on Wednesday for talks with leaders on plans to annex swathes of the o
Dec 10,2019
AMMAN — The Lower House's Palestine Committee on Tuesday strongly denounced Israeli Prime Minister Benjamin Netanyahu's remarks that Israel