You are here
'JUST's 4 Is 2020'
May 19,2017 - Last updated at May 19,2017
Ever since its establishment, Jordan University of Science and Technology (JUST) has had an impressive record of accomplishment in education, scientific research and development, innovation and entrepreneurship, as well as community service and leadership, preparing highly qualified graduates who gained national and international reputation and lead development in Jordan and in neighbouring countries.
One of JUST's main strategic targets is to foster leadership skills, innovation and entrepreneurship among its students, as well as to build their capacity so that they are equipped with the proper knowledge, skills and tools to proceed with their careers and professions, therefore transforming their mindset and personalities from job seekers to job and opportunity creators.
This comes synchronises perfectly with the vision of His Majesty King Abdullah, discussed in his seventh Discussion Paper, on building capacity and improving and developing education in Jordan. 
The vision of His Majesty and his relentless efforts to transform the whole educational process so that the classical method of memorisation is replaced by ones that focus on mind prodding and critical thinking clarified the path JUST should follow; indeed, JUST's current strategic plan made that the centre of its target and strategic goals.
JUST swiftly picked up the royal message and outlined a strategic plan that synchronises with and puts into action King Abdullah's seventh Discussion Paper, setting the framework for the future of JUST in terms of capacity building and development of the educational process.
The plan focuses on drafting priority objectives with emphasis on students' capabilities in leadership, science, innovation, entrepreneurship and research, to meet the ever-changing and fast-paced technological trends in the world.
The said paper is a strong motive to create a future plan that aims at realising the Royal vision to stimulate innovative, creative, thinking among students in all aspects. The thirst for excellence is never quenched; there is, therefore, need for a real, genuine and well-managed strategic transformation programme, which should align with the Royal vision and the seventh Discussion Paper.
In response to this, JUST decided to take remedial and preventive measures, and embarked on a transformation programme that was launched in September 2016 with a strong belief in the power of change.
This programme is essential, of highest priority and a goal that the university will aim to achieve in order to crown 2020 with visionary uplifting and change.
The programme concentrates on four main strategic priorities (so-called JUST 4 Is) with clear linkage with the core of the seventh paper. The core is related to innovation, industry linkage, interdisciplinary programmes and internationalisation, hence the name JUST 4 Is 2020.
Innovation transforms graduates from merely job seekers to makers of innovative environments and opportunities, opening the doors for new, non-conventional, jobs.
Industry linkage sets the path for smooth integration with our industries, which are in need of the support of high technical and scientific talents.
Internationalisation entails opening the door to combined research, joint degrees, international activities and conferences, with the logical end result of being recognised and ranked highly internationally. 
Interdisciplinary programmes bring along different but related — either in content or in goals, or both — sciences that aim at catching up with advances in science and technology, nanotechnology being the best example. 
JUST also supports joint research and interdisciplinary research.
These four Is are our gateway to the future, and the visionary leadership of King Abdullah is our inspiration and the source of our motivation.
The writer is JUST president. He contributed this article to The Jordan Times.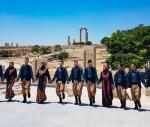 Newsletter
Get top stories and blog posts emailed to you each day.