You are here
Shift on Syria could lead to progress of Geneva talks
Apr 05,2017 - Last updated at Apr 05,2017
The Trump administration blamed Damascus and its allies Moscow and Tehran for Tuesday's deadly gas attack on insurgent-held Idlib province but seems to be sticking to decisions on the US posture on the six-year Syrian war that could lead to progress in the next round of intra-Syrian talks in Geneva.
At the end of last week, Secretary of State Rex Tillerson said Syria's President Bashar Assad's fate "will be decided by the Syrian people". By this, he meant rather than external powers. 
Tillerson's statement reversed the regime change policy adopted by former president Barack Obama in August 2011, when he called on Assad to "step aside" due to his crackdown on Arab Spring-driven protests, which developed into full-scale warfare.
Although softening the US stand on Assad from time to time, Obama never gave up the objective of topping him, and Obama behaved accordingly.
The US ambassador to the UN, Nikki Haley, reiterated Tillerson's line when she said the US will no longer focus on "getting Assad out", but will focus on defeating Daesh.
She attempted to roll back on this statement when she said Syrians do not want Assad to remain in power and argued he should not stand for re-election. However, she is not the decider in the confused and conflicted Trump administration.
Earlier, White House Press Secretary Sean Spicer had confirmed the new approach by stating: "There is a political reality that we have to accept. We lost a lot of opportunity [during] the last administration, with respect to Assad... it's now up to the Syrian people." 
After Tuesday's deadly attack he stated once again that Assad's rule is a "political reality" and "there is no fundamental option of regime change".
This is the line adopted by Russia and Assad, who said once there is a political settlement, he would stand for election if this is the wish of the Syrian people.
Tullerson is due in Moscow next week.
It is significant that Tillerson announced a policy shift in Ankara following a meeting with his Turkish counterpart Mevlut Cavusolglu, making it clear to Turkey that it should wind down its campaign to oust Assad.
Turkish President Recep Tayyip Erdogan called for Assad to stand down a few months after unrest erupted in Syria and during July and August 2011 established the "Free Syrian Army" and the "Syrian National Council" with the intention to use them as tools to effect his removal.
Tillerson clarified Washington's formerly wobbly position on Assad and prepared the way for increased military involvement in the fight against Daesh in Syria at a time US special forces are bolstering the Iraqi army's offensive to drive Daesh from Mosul.
The day ahead of Tillerson's visit, Ankara announced the end of "Operation Euphrates Shield", its armed incursion into northern Syria.
Until then, Turkey had threatened to seize the strategic northern Syrian town of Manbij, captured from Daesh by the US-backed Syrian Democratic Forces (SDF) in June 2016.
US, Russian and Syrian army forces prevented this from happening.
Ankara was determined to oust the SDF because it is dominated by Kurds belonging to the People's Protection Units, the military wing of the Kurdish Democratic Union Party.
It has links with the separatist Turkish Kurdish Workers' Party, which has fought Ankara for self-determination for more than 30 years.
Ankara has become increasingly concerned over the SDF's actions in Manbij. The SDF set up a Military Council to impose security and a City Council to provide administration.
While making the city self-governing, the SDF has also tied it to Rojava, the unilaterally proclaimed Kurdish autonomous federation of northern Syria.
The last thing the Turks want is for this federation to prosper, as it will boost the Turkish Kurdish drive for autonomy or independence.
Tillerson seems to have persuaded Turkey to forget its ambition to take part in the offensive to liberate the Syrian city of Raqqa from Daesh.
The Obama administration fostered, trained and armed the SDF to carry out this task and the Pentagon, under Trump, has no intention of altering this policy.
During a two-hour meeting with Erdogan, Tillerson tried to mollify him by giving Turkey full support in its battle with its own insurgent Kurds.
Meanwhile, restraints have been lifted on the Pentagon so its high- and middle-ranking officers and those in the field have more latitude in ordering troop deployments and air strikes in Syria and Iraq and elsewhere.
Rising civilian deaths and woundings are no longer of great concern.
Kurdish leader Saleh Muslim said once Raqqa is freed, its citizens could opt to join the federation if they choose.
He and the SDF see the federation as the future polity of Syria, although this model is rejected by both the Syrian government and the Riyadh-based High Negotiation Committee.
It is likely that Russia and Iran, the chief supporters of the government, will also oppose federalism, which could lead to autonomous regions.
This policy has produced major problems between Baghdad and the Iraqi Kurdish region, which has exploited the battle against Daesh to grab territory under the central government's administration. 
For Turkey, federalism is the worst possible option for Syria, although Ankara insists on this form of governance for divided Cyprus.
Turkey reasons that once Syrian Kurds have their Rojava, loosely tied to Damascus, Turkish Kurds living in southeastern Turkey will redouble their efforts to achieve similar status and, ultimately, the Kurds in Turkey will unite with the Kurds in Syria and Iraq to form the independent state they have been demanding since the end of World War I.
Ankara certainly recalls that the US Central Intelligence Agency fully backed Iraqi Kurdish leader Mullah Mustafa Barzani in his struggle for Kurdish independence from Iraq.
On Kurds, the Turks trust no one but themselves.
If Arab supporters of the Syrian opposition also take on board the Trump administration's efforts to ensure the war against Daesh is given priority, there could be progress in the intra-Syrian talks in Geneva.
So far, the main obstacle to movement has been the High Negotiations Committee's refusal to budge from its demand that Assad has to go before the transition to a new form of government begins.
This stand had traction as long as Washington agreed.
The nightmare for those who support Assad's removal is that if and when the transition from the Baath Party government takes place and elections are held, Assad might win.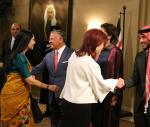 Newsletter
Get top stories and blog posts emailed to you each day.