You are here
'No nation hiding behind a wall is free'
Jul 12,2017 - Last updated at Jul 12,2017
The fourth of July US independence holiday provided an opportunity for "resistance" to the Trump administration to demonstrate opposition to its policies.
Foremost among these is its decision to repeal "Obamacare", the flawed Affordable Care Act adopted by the previous administration.
The Republican-dominated Senate failed to secure enough votes to replace this legislation with a far worse measure ahead of the holiday and plans to try once again in coming days and weeks.
The Republican bill, supported by President Donald Trump, will deny insurance to many with chronic health problems and remove from the rolls 24 million people who received insurance under Obamacare.
The reason the Senate failed to pass the Republican bill was the defection of several Republican senators who denied the party the majority of votes necessary for adoption.
Some right-wing defectors argued the new bill did not go far enough: it did not cancel government involvement in health insurance.
Moderates insisted that the bill was not an improvement on Obamacare and is condemned by a majority of voters.
Since only 12-17 per cent of respondents to recent opinion polls back the plan, moderates reflect the public response to Trumpcare.
Unfortunately, Trump's backing for this plan and other deeply damaging policies does not translate into falling ratings for Trump himself.
Opinion surveys show he continues to enjoy the approval of 40 per cent of the electorate, while 55 per cent disapprove.
While most presidents have enjoyed approval ratings of around 55-65 per cent during their first months in office, this does not seem to worry Trump who seems to be impervious to his low standing with the public.
As could be expected, only 6 per cent of Democrats and 35 per cent of independents approve of his performance, while 90 per cent of Democrats and 65 per cent of independents disapprove.
These figures contrast starkly with the 82 per cent of Republicans who approve of Trump and the 13 per cent who disapprove, and demonstrate the extent of the political divide within the US.
Crass behaviour, insulting tweets and the adoption of policies harmful to his constituents do not seem to impact Trump's personal rating.
This hard fact makes it all the more difficult for Trump's opponents to erode support for the reactionary Republican agenda, which includes not only ending healthcare for the most vulnerable, but also revoking legislation cutting greenhouse gas emissions, deporting undocumented migrants and denying entry to Muslims from six countries in conflict where the US played destructive roles.
According to an environmental activist, climate change warriors have the advantage over those who seek to revoke legislation protecting the environment.
Wind and solar power have developed to the point where they are more cost effective than fossil fuels.
Technology has trumped the powerful coal and oil firms.
National power plant emissions have already been cut to meet the Obama administration's modest goal for 2024.
Revoking legislation requires months of effort in Congress and can be challenged in the courts.
Trump has also come under pressure from the international community, as well as 300 major US firms, to stick to the Paris climate agreement.
Furthermore, liberal states, led by California, have already begun to enact clean air legislation and impose fresh regulations on industries.
On other issues, the "resistance" has more difficult tasks to perform in order to prevent Trump and the Republicans from wreaking havoc.
The "resistance" consists of a host of organisations, some with a broadly based agenda, others focusing on specific issues.
"Rise up" is the command common to many.
"Indivisible" is a countrywide grassroots project with 58,000 local affiliates that seeks to exert pressure on members of Congress from both parties to preserve progressive laws and regulations and resist Republican/Trump initiatives on a whole range of issues.
On July 1, tens of thousands of citizens paid $35-40 to take part in five-kilometre runs in many communities across the US.
"We resist. We insist. We persist," stated the e-mail sent out to those interested in joining the protest.
"Today we rise up for our climate, knowing it is a race between education and catastrophe. We rise up because healthcare… is a fundamental human right that our government is obligated to protect, respect and fulfil. We rise up to defend and protect immigrant families, knowing no nation hiding behind a wall is free, for it is imprisoned by its own fear."
Funds raised by this campaign are to go to half a dozen organisations the Trump administration ignores or is determined to close or de-fund.
The "resistance" has organised because the Democratic party is divided three ways, progressives, moderates and conservatives, and cannot put up an all out fight for issues important to citizens.
While the party has left-wing activists like Bernie Sanders, who recruits youth to stand against Trumpism, moderates are uncertain this is the correct course, and conservatives oppose anti-Trump activities.
Democratic progressives have launched successful efforts to recruit volunteers to canvass the public, hold informative meetings and take part in events, but the party is limited by divisions and differences over how far to go.
A call for Trump's impeachment goes too far for some Democratic politicians.
Nevertheless, grassroots groupings have held impeachment marches in three dozen cities.
These events were well organised, with hotlines to legal aid, lawyers present to deal with arrests and booklets informing participants of their rights.
The Internet, Facebook and Twitter have been widely used by "resistance" groups, as well as by Trump loyalists, to advertise their existence, win recruits and promote their programmes.
US protesters have learned the lessons of the 2011 Egyptian uprising, where social media played a major role in mobilising people.
A great deal more has to be done by the "resistance", however, before Washington takes notice.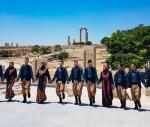 Newsletter
Get top stories and blog posts emailed to you each day.