You are here
What matters at the UN
Mar 18,2017 - Last updated at Mar 18,2017
An Economic and Social Commission for Western Asia (ESCWA) report published last week found Israel guilty of apartheid, prompting UN Secretary General Antonio Guterres, under pressure from the US ambassador to the UN, to ask that the report be withdrawn.
ESCWA's principled chief, Rima Khalaf, resigned on Friday because "it is my duty not to conceal a clear crime, and I stand by all the conclusions of the report".
The report found "beyond a reasonable doubt that Israel is guilty of policies and practices that constitute the crimes of apartheid", urges governments to "support boycott, divestment and sanctions activities and respond positively to calls for such initiatives" and concludes that "Israel has established an apartheid regime that dominates the Palestinian people as a whole".
The brouhaha at the UN is not difficult to understand when secretary general after secretary general would be intimidated by the US, at Israel's behest, and made to tone down language that, inevitably, would find Israel guilty of an assortment of crimes.
The report does not say anything new. New is Khalaf's moral fibre, which made her stand by the report's findings and resign, rather than hide facts and yield to US-Israeli bullying. 
It is regrettable that the new UN head felt the need to distance himself from the conclusions of the ESCWA report, saying that he was never consulted on the findings of the commission.
The UN secretary general must sure know that UN agencies, including human rights treaty bodies, are not in the habit of consulting him before adopting their conclusions.
ESCWA's report is its own and it does not require endorsement by the UN General Assembly, the UN Security Council or the UN chief.
The declaration that Israel's policies and practices against Palestinians amount to de facto apartheid is an unavoidable conclusion and common knowledge, expressed at different times, by different organisations, in different forms and terms.
The Israeli policies and practices have been widely criticised and condemned as grave violations of human rights, but Israel had not been stigmatised officially by the term "apartheid" yet, which must have added a sting to ESCWA's report.
It is a shame that the capable leader of a respected organisation should be let go to accommodate the whims of a racist state and its obliging "ally".
The message this sends is shocking: principles do not count, but waiting on those in power is certain to help one keep his chair.
Human rights and international law are as big a victim as the oppressed, in this case the Palestinians.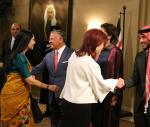 Newsletter
Get top stories and blog posts emailed to you each day.