You are here
The way forward
Mar 15,2017 - Last updated at Mar 15,2017
In the Cabinet session he partly chaired on Tuesday, His Majesty King Abdullah instructed the government to improve public administration and complete the electronic government programme by 2020.
A "paperless government", said the King, has become a necessity and "there [is] no justification or room for more delay in the matter".
Online services at ministries and better management of public services, which, said the prime minister, are plagued by favouritism and nepotism, would cut red tape, stem preferential treatment and make these services more efficient.
This is going to need a firm stand by ministers. Government institutions are used to paper work, and it is going to take some getting used to changing this, but with determined effort, they will eventually have to change the way they conduct official business.
Electronic work is used in most advanced nations and international organisations; Jordan should not remain an exception.
There is too much waste in a paper-based public administration, of time and money, and it is indeed time to change the manner of conducting public affairs.
Besides urging the implementation of e-government, King Abdullah also stressed the need to implement a clear programme that stimulates economic growth in order to meet the needs of all sectors and help them achieve targeted growth rates, despite the adverse regional situation, as well as to increase their capability to generate jobs.
The premier assured that the government has in place plans whose main feature is to protect the low- and middle-income population, and stressed the need for effective efforts that enable the private sector to play an important role in the process, aware that economic revival cannot be achieved through tax reforms only.
Part of these plans is also boosting tourism, which showed signs of improvement over the past two months.
While Jordan is blessed with places that few other countries boast, it needs to work seriously to attract tourists.
It should think out of the box and be innovative, come up with new attractions, besides the traditional archaeological sites that, as great as they are, offer little by way of modern, youthful entertainment.
Other issues were discussed during the Cabinet session — municipal and governorate council elections, improving the business environment and the judiciary sector — and that shows awareness of the situation and desire to improve.
The most pressing issue is the economy. Unless the government adopts and implements stimulus programmes as a matter of urgency, the economy will continue to stagnate, causing more unemployment and hardships for citizens.
His Majesty urged government and Parliament cooperation to accelerate the enactment of economic laws and to implement the ones recommended by the Royal Committee for Reforming the Judiciary and Enhancing the Rule of Law.
That is the best starting point.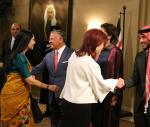 Newsletter
Get top stories and blog posts emailed to you each day.