You are here
Sensible decision
Jun 08,2017 - Last updated at Jun 08,2017
As per the Ministry of Tourism instructions, tourist restaurants in the country are allowed to serve food and beverages to tourists during the month of Ramadan.
This is a sensible decision.
Jordan usually receives large numbers of tourists during the summer season, and the visitors, mostly non-Muslim, should not have Ramadan's fasting rules imposed on them.
While required to show respect to the cultural and religious traditions of the countries they visit, tourists cannot be forced to follow them.
And there, the ministry's instructions are correct. Still, they are peculiar: restaurants catering to tourists are supposed to be fully closed and guests are not supposed to be seen eating.
Faith and religious rituals are, or should be, a very private, personal affair. 
They concern individuals who conduct themselves as they see appropriate, according to religious teachings, but should not be ground for pontificating, proselytising or judging fellow human beings.
There is nothing wrong or sacrilegious in tourists enjoying their meals and drinks without having to hide.
To each his own.
Devout Muslims do not fast to impress others, but because they believe in this pillar of Islam. They should not stand in judgement of those who choose differently.
Jordan gets to benefit a lot from tourism, even in the best of times; now that the economy needs a boost, all the more so.
Tourists' lives should not be upended, even when they visit during Ramadan.
They should be made to feel welcome, and allowed to enjoy the beauty of the country and the famous Jordanian hospitality without fear that they could offend their hosts.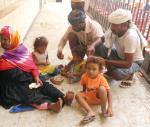 Newsletter
Get top stories and blog posts emailed to you each day.