You are here
More of the same
Mar 16,2017 - Last updated at Mar 16,2017
The Greater Amman Municipality (GAM) mayor has just unveiled a proposal that will be submitted to the Cabinet, to help alleviate the increasingly difficult traffic situation in the capital.
The proposal contains several ideas that could prove to be at least a partial or temporary solution to the transportation woes in Amman.
The municipality has, for years, been juggling with ideas and practical steps to help improve traffic conditions in Amman, but every time a solution appears and is implemented, it is defeated by the overwhelming number of vehicles in and around Amman.
This number never seems to stop growing, having reached, for now, the staggering figure of 1.25 million.
It seems that, like Sisyphus', the GAM's job will be perpetual and unproductive.
No matter what the municipality does to reduce traffic jams and improve conditions for pedestrians, the crisis on the roads keeps growing.
The latest bid the mayor is considering entails dealing with the transportation of government employees who should, ideally, assemble in one area and then be transported to their various departments by buses.
Another idea the mayor is floating is flexible working hours for employees.
Both suggestions are, in principle, sound; they are implemented in other, developed, countries.
The problem lies with the infrastructure — huge parking lots for the cars of those assembling at the pick up place — and the mindset of our fellow citizens who tend to shun buses, often for good reason.
The municipality is also working on road projects — tunnels, overpasses, belt roads — to ease the traffic jams in several areas of the city where it tends to get clogged up.
All these moves and ideas are certainly fine and often help for a while, but when all is considered, they remain a palliative.
Amman is a major metropolis with a population of more than 3 million. Until or unless major transportation infrastructure and schemes are envisioned and implemented, no amount of improvisation will solve the traffic problem.
The so much talk about the rapid bus transportation system, and that in limited areas of the city, is still just talk. Nothing practical, except for the deserted sad lane in the middle of some streets, which took much-needed space from motorists and serves no purpose so far, can be seen.
The municipality deserves credit for its endeavours, but patching things up is no solution.
The inescapable conclusion is that we urgently need an efficient, affordable and reliable public transportation system for all parts of the capital, until the time comes for a metro to be introduced.
Anything short of that is temporary and of little help.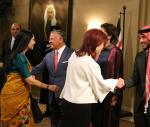 Newsletter
Get top stories and blog posts emailed to you each day.