You are here
An interesting phone call
Mar 12,2017 - Last updated at Mar 12,2017
President Donald Trump called Palestinian leader Mahmoud Abbas a few days ago, inviting him to the White House to discuss advancing peace in the entire Middle East, including between Palestinians and Israelis.
In the case of the latter, Trump wishes to talk about resuming peace talks, stalled, dying and with no substance to negotiate in view of Israel's continuous land grab and declared intentions.
The White House issued a statement on the occasion, confirming the president's "personal belief that peace is possible and that the time has come to make deal".
The White House statement said "the president noted that such a deal would not only give Israelis and Palestinians the peace and security they deserve, but that it would reverberate positively throughout the region and the world".
The White House finally got it. Better late.
The US ambassador to the UN said Palestinians should engage in "direct peace negotiations, rather than looking to the UN". 
But she being the same person who took the UN Security Council to task for its "double standards" when it comes to its treatment of Israel — which is actually true, only it is always in favour of Israel, so no need to be scolded, really — and who, after her first meeting with the Israeli ambassador to the UN said "never again will our allies have to question our support", makes the previous statement suspicious, to say the least.
Sure, the two sides have to talk together to arrive at an agreement. That is basic in any deal making. But the UN resolutions on the issue should be the point of reference, and not the sentimental goo the envoy, echoing her country's position no doubt, splashes at Israel.
What should guide any "peace talk" should be the relevant UN resolutions and international legitimacy, whereby Palestinians attain freedom from occupation and can enjoy the inalienable right to self-determination by establishing a state on Palestinian soil with East Jerusalem as its capital.
Peace negotiations in the absence of parameters are just an exercise in futility. And of those, there have been many. 
What prevented the two sides from reaching a legitimate and lasting peace is not the mechanism or format of peace negotiations, but Israel's constant refusal to endorse the two-state, the one-state or any other solution. 
Trump himself showed to be in two minds about the way this intractable conflict could be solved, when the solution is simple and within reach if Israel wants to accept it.
Still, the fact that Trump invited the Palestinian president to the White House to discuss the Palestinian crisis may be a good, if not enough, sign. 
The US president is full of surprises. Maybe he will come up with a pleasant one on the Israeli-Palestinian conflict.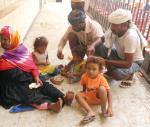 Newsletter
Get top stories and blog posts emailed to you each day.