You are here
Heavy cost of an ugly war
Jun 11,2017 - Last updated at Jun 11,2017
The battle for Daesh's stronghold in Syria, the terrorist cult's self-proclaimed capital, Raqqa, has reportedly intensified, with fighters from the Syrian Democratic Forces, an alliance of Kurdish and Arab fighters, having captured the western district of Al Sabahia just hours after having taken the eastern district of Al Meshleb.
Not unlike the battle for Mosul, in Iraq, the battle for Raqqa is projected to take some time — experts claim it will take considerably less than for Mosul — to dislodge Daesh completely from it.
The fighting, for both cities, is advancing slowly because of the presence of many civilians caught between the fighting sides.
Daesh is said to be using civilians as human shields, and preventing them from leaving the city, to make the cost of the war against it even heavier.
In Raqqa, where some 3,000 to 4,000 Daesh fighters are believed to be holed up and to put up a fierce battle, the tens of thousands of civilians, among them UNICEF-estimated 40,000 children, are in grave danger.
Besides the conventional weapons the fighting sides use, there are now reports that the US-led coalition is using white phosphorus-loaded munitions on densely populated areas, in violation of the international humanitarian law requirement that all possible precautions be taken to avoid civilian injury and loss of life.
The rules of engagement were never observed in the war in Syria by either side; Daesh behaves savagely, using the civilian population as human shields and for other grisly purposes, and government forces were accused of using barrel bombs targeting civilians.
So there is no easy solution to take Raqqa — as there is no easy way to recapture Mosul — but the liberating forces, at least, should exercise more restraint, not to risk alienating the people they purportedly wish to free.
Daesh gangs, engaged in protracted battles, must be exhausted, but also desperate and ready to resort to even more cruel acts.
The assorted groups fighting it should take all the measures that ensure that civilian lives are protected, at least by one side in this ugly war.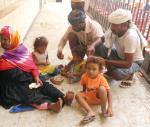 Newsletter
Get top stories and blog posts emailed to you each day.